Member Sidebox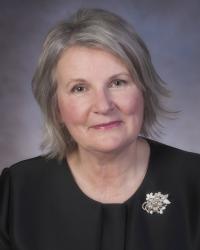 Darlene Compton was elected as the MLA for Belfast-Murray River in 2015, 2019, and 2023. In May 2019, she was re-elected and appointed Deputy Premier and Minister of Finance.  She also served as Minister responsible for the Status of Women from 2019 - 2020. She is currently a member of the Standing Committee on Natural Resources and Environmental Sustainability. She previously served on the Standing Committees of Legislative Management, Public Accounts, and Health and Wellness.
During her time in Opposition, Darlene served as Opposition House Leader and Opposition Critic for Finance, Family and Human Services, and the Status of Women.
Darlene earned a business degree from Casco Bay College before living and working overseas for many years. Prior to being elected, she worked as administrator of the Dr. John Gillis Memorial Lodge. She sits on the board of the Belfast Development Corporation and the Belfast Recreation Centre. She also serves as a director of the Belfast Historical Society.
Darlene has two grown children, Katie and Glen, and lives in South Pinette with her husband Russell.
Member History Table
| Constituency | Party | Start Date | End Date |
| --- | --- | --- | --- |
| 4-Belfast-Murray River | PC | May 2015 | April 2019 |
| 4-Belfast-Murray River | PC | April 2019 | April 2023 |
| 4-Belfast-Murray River | PC | April 2023 | Current Member |
Role(s)
| Responsibility | Start Date | End Date |
| --- | --- | --- |
| Minister responsible for Status of Women | May 2019 | February 2020 |
| Minister of Finance | May 2019 | July 2022 |
| Deputy Premier | May 2019 | April 2023 |
| Minister of Agriculture and Land | July 2022 | April 2023 |
| Minister of Justice and Public Safety and Attorney General | July 2022 | April 2023 |
Committee(s)
| Committee Name | Role | Start Date | End Date |
| --- | --- | --- | --- |
| Public Accounts | Committee Member | 2015 | 2018 |
| Health and Wellness | Committee Member | 2015 | 2019 |
| Natural Resources and Environmental Sustainability | Committee Member | 2019 | 2022 |