Member Sidebox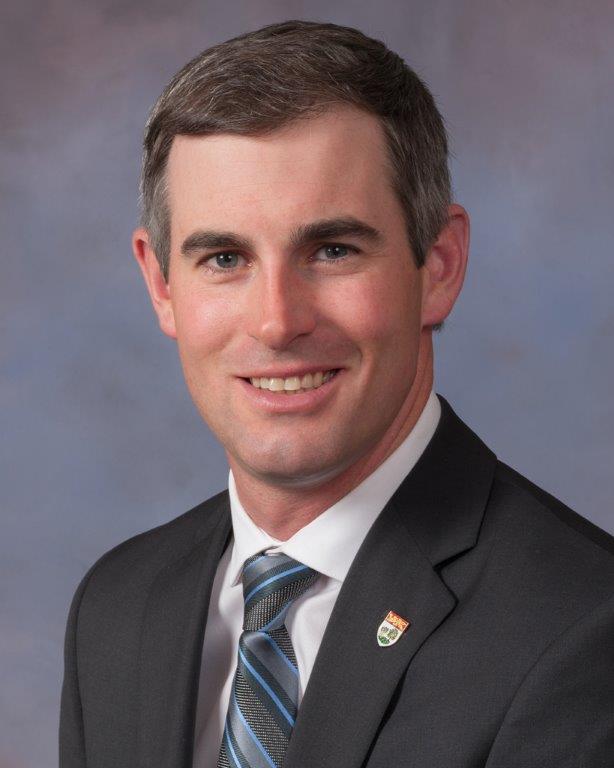 Sidney MacEwen grew up in St. Peter's Harbour, PEI and still lives there with his three children.  His legislative work reflects the future he wants to help shape for Rylan, Mason and Mara. After graduating with an Industrial Engineering degree from Dalhousie University, Sidney worked as a Business Consultant, the Opposition Office Chief of Staff, and worked in the Provincial Department of Health. Sidney has also fished lobster and tuna from Red Head Harbour since 2005.
Since being elected in 2015, and re-elected in 2019 and 2023, Sidney has continued his community involvement sitting on the executives of the North Side Communities Initiative, the Morell and Area Development Corporation, and the St. Peter's Harbour Lighthouse Society. Sidney continues to coach minor hockey and baseball, teaches catechism, and has volunteered with local schools,
Sidney served as the Government House Leader and sat as a member of the Standing Committee on Public Accounts; the Standing Committee on Legislative Management; the Standing Committee on Rules, Regulations, Private Bills and Privileges; the Standing Committee on Commitees; the Special Standing Committee on Climate Change; and the Special Standing Committee on Government Records Retention.
Member History Table
| Constituency | Party | Start Date | End Date |
| --- | --- | --- | --- |
| 7-Morell-Mermaid | PC | May 2015 | April 2019 |
| 7-Morell-Donagh | PC | April 2019 | April 2023 |
| 7-Morell-Donagh | PC | April 2023 | Current Member |
Role(s)
| Responsibility | Start Date | End Date |
| --- | --- | --- |
| Opposition Whip | March 2016 | 2019 |
| Government House Leader | 2019 | 2023 |
| Deputy Speaker | 2023 | Current |
Committee(s)
| Committee Name | Role | Start Date | End Date |
| --- | --- | --- | --- |
| Infrastructure and Energy | Committee Member | 2015 | 2019 |
| Communities, Land and Environment | Committee Member | 2015 | 2018 |
| Special Committee on Democratic Renewal | Committee Member | 2015 | 2019 |
| Health and Wellness | Committee Member | 2017 | 2019 |
| Education and Economic Development | Committee Member | 2018 | 2019 |
| Special Committee on Poverty in PEI | Committee Member | 2019 | 2019 |
| Committee on Committees | Chair | 2019 | 2019 |
| Special Committee on Climate Change | Committee Member | 2019 | 2021 |
| Public Accounts | Committee Member | 2019 | 2023 |
| Rules, Regulations, Private Bills and Privileges | Committee Member | 2019 | 2023 |
| Legislative Assembly Management | Government House Leader | 2019 | 2023 |
| Special Committee on Government Records Retention | Committee Member | 2020 | 2020 |
| Health and Social Development | Committee Member | 2021 | 2023 |
| Public Accounts | Committee Member | 2023 | Current |
| Rules, Regulations, Private Bills and Privileges | Observing Member | 2023 | Current |