Stanley Forrest "Bush" Dumville
Member Sidebox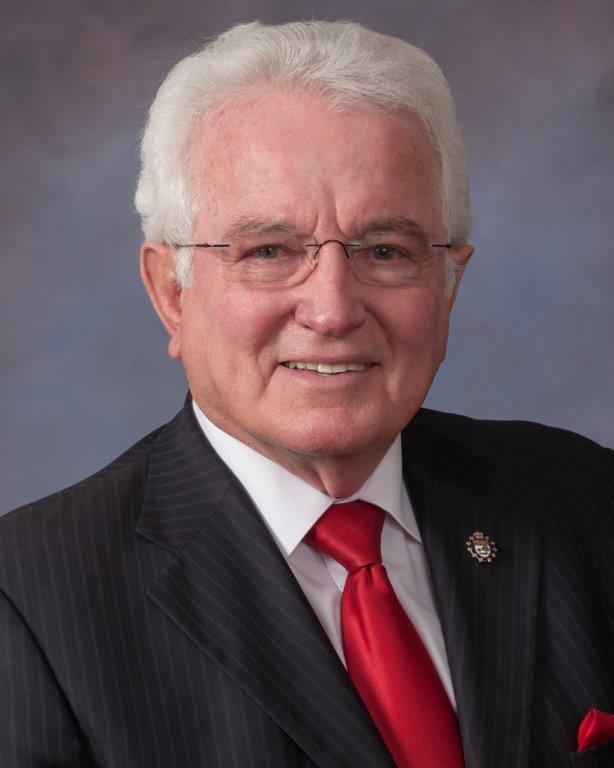 "Bush" Dumville, a Liberal, was first elected to the Legislative Assembly in the 28 May 2007 general election representing District 15 West Royalty-Springvale. He retained his seat in the 3 October 2011 and 4 May 2015 general elections. He was a member of various executive and legislative committees and served as Government Whip. Dumville put his name forward in the running for Speaker in 2015 but lost the secret ballot vote to fellow Liberal member Buck Watts. This was the first time in 18 years a secret ballot was used to elect a Speaker.  On January 31, 2018, he resigned from the Liberal Caucus to sit as an Independent Member in the legislature.
Raised in O'Leary, Dumville graduated from O'Leary Regional High School in 1965. He continued his schooling at Prince of Wales College and attended the Royal Canadian Police Recruiting Training centre in Regina, Saskatchewan, in 1966 before joining the RCMP in 1967. He served at posts in Newfoundland, New Brunswick and Ontario. On 9 July 1979, Dumville opened a Burger King franchise in Charlottetown followed by a franchise in Summerside on 1 July 1986. Dumville sold both franchises by the end of April, 2011.
Dumville has served as president of the Charlottetown Rotary Club and the RCMP Veterans' Association. Dumville is a Past Grand Master of the PEI Masonic Order (1997-1998) and a member of both the Island Shriners Club and Philae Temple of Nova Scotia and Prince Edward Island. Most Worshipful Bro. Dumville continues to hold the office of Grand Representative of the Grand Lodge of the State of Vermont, near the Grand Lodge of Prince Edward Island and sits on the Grand Lodge Board of General Purposes. Dumville has served as director of the Charlottetown Chamber of Commerce and led charity campaigns for the United Way and Big Brothers Big Sisters of Prince Edward Island. He has played an active role at Spring Park United Church. 
References
CBC 2 October 2008, 31 December 2010, 18 November 2009; Eastern Graphic 15 April 2015; Elections PEI; Globe and Mail 15 September 2011; The Guardian 6 March 2015; Hansard Index of Committees April 2012 to November 2012, 6 January 2011 to 30 March 2011; PEI Free Masonry; Questionnaire to MLAs; Standing Committee on Health, Social Development and Seniors Second Report of the Second Session Sixty‐fourth General Assembly Committee Activities 17 April 2012. 
Member History Table
| Constituency | Party | Start Date |
| --- | --- | --- |
| West Royalty-Springvale | Liberal | 28 May 2007 |
| West Royalty-Springvale | Liberal | 3 October 2011 |
| West Royalty-Springvale | Liberal | 4 May 2015 |
Committee(s)
| Committee Name | Role | Start Date | End Date |
| --- | --- | --- | --- |
| Fisheries, Intergovernmental Affairs and Transportation | Chair | 2007 | 2010 |
| Public Accounts | Committee Member | 2007 | 2008 |
| Education and Innovation | Committee Member | 2010 | 2014 |
| Fisheries, Transportation and Rural Development | Chair | 2010 | 2012 |
| Health, Social Development and Seniors | Committee Member | 2011 | 2012 |
| Agriculture, Environment, Energy and Forestry | Committee Member | 2011 | 2016 |
| Community and Intergovernmental Affairs | Chair | 2011 | 2015 |
| Health, Social Development and Seniors | Chair | 2012 | 2015 |
| Health and Wellness | Committee Member | 2015 | 2018 |
| Infrastructure and Energy | Committee Member | 2015 | 2017 |
| Public Accounts | Committee Member | 2015 | 2018 |
| Rules, Regulations, Private Bills and Privileges | Committee Member | 2015 | 2018 |
| Agriculture and Fisheries | Committee Member | 2016 | 2018 |
| Education and Economic Development | Chair | 2016 | 2019 |
| Infrastructure and Energy | Chair | 2017 | 2018 |