Member Sidebox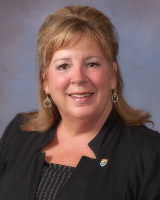 Sherry, a Liberal, was first elected to the Legislative Assembly in the 28 May 2007 general election representing District 21 Summerside-Wilmot. She was re-elected on 3 October 2011 and 4 May 2015. She served as Government Whip and in various cabinet roles throughout her political career. She put her name forward in the running for Speaker under the MacLauchlan administration but lost the secret ballot vote to fellow Liberal member Buck Watts. It was the first time in 18 years a secret ballot election was held to elect a Speaker. In August 2016, Sherry stepped down as the member for District 21 effective immediately. "I want to go out when I'm feeling good about what I've done and my accomplishments and be sure not to miss any more family occasions."
Having grown up in Summerside, Sherry received her public school education at Parkside Elementary, Athena Elementary, Athena Regional High and Three Oaks Senior High. She completed her higher education at St. Mary's University. Sherry then worked in the fields of finance, real estate, and mental health as a day program worker for the Canadian Mental Health Association. 
Her grandfather, William E. Jenkins, served as mayor of Summerside from 1965 to 1967.
Sherry has community theatre experience and performed professionally in the musical production Gabriel and Evangeline. She also played a role in the 1998 television series Emily of New Moon. Sherry assisted in fundraising initiatives for the Canadian Cancer Society, Canadian Diabetes Association, the United Way, Notre Dame Place, Big Brothers Big Sisters and a Canadian Mortgage and Housing Corporation program. Sherry is an avid reader, writer and artist who enjoys gardening and entertaining family and friends. 
References
Annual Report of the Legislative Assembly of Prince Edward Island 1 January 2007 to 31 December 2007; Elections PEI; The Guardian 1 August 2015; Questionnaire to Former MLAs. 
Member History Table
| Constituency | Party | Start Date | End Date |
| --- | --- | --- | --- |
| Summerside-Wilmot | Liberal | May 2007 | October 2011 |
| Summerside-Wilmot | Liberal | October 2011 | May 2015 |
| Summerside-Wilmot | Liberal | May 2015 | August 2016 |
Role(s)
| Responsibility | Start Date | End Date |
| --- | --- | --- |
| Government Whip | 2007 | 2010 |
| Minister Responsible for the Status of Women | 2010 | 2015 |
| Minister of Community Services, Seniors and Labour | 2010 | 2011 |
| Minister of Environment, Energy and Forestry | 2011 | 2011 |
| Minister of Environment, Labour and Justice and Attorney General | 2011 | 2015 |
Committee(s)
| Committee Name | Role | Start Date | End Date |
| --- | --- | --- | --- |
| Public Accounts | Committee Member | 2007 | 2010 |
| Community Affairs and Economic Development | Committee Member | 2007 | 2010 |
| Social Development | Chair | 2007 | 2010 |
| Privileges, Rules and Private Bills | Committee Member | 2008 | 2014 |
| Communities, Land and Environment | Committee Member | 2015 | 2016 |
| Health and Wellness | Committee Member | 2015 | 2016 |
| Public Accounts | Committee Member | 2015 | 2016 |
| Special Committee on Democratic Renewal | Committee Member | 2015 | 2016 |