1996 Recipients of the Medal of Merit
Reverend Charles Cheverie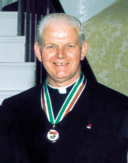 Born in Charlottetown in 1932, "Father Charlie" is one of Prince Edward Island's most respected citizens. He was educated at Saint Dunstan's University, Holy Heart Seminary, and the Catholic University of America, where he received a doctorate in biology. He was ordained a Roman Catholic priest in 1956, and most recently has been pastor of St. Eugene's Parish, Covehead. In 1959 he began what has been an outstanding career of teaching and research at Saint Dunstan's University, and at its successor the University of Prince Edward Island. Reverend Cheverie also served as a commissioned officer and military chaplain in the Canadian Armed Forces.
His devotion to the province and to the well-being of its people has been demonstrated in many ways, through his promotion of traditional music, his efforts to sustain and protect the natural environment, and of course by his dedication as a scholar and teacher. His leadership is a special blend of personal example, wisdom, and a gentle insight into the ways of people. Called to be a priest, and trained as a scientist, his career of ministry, teaching, service and scholarship has been a gift to the province and its people. A man who shuns praise, but whose countless good works are known by many, "Father Charlie" is an Islander of exceptional merit.
Honourable Gilbert R. Clements, O.P.E.I. (Chancellor: 1995-2001)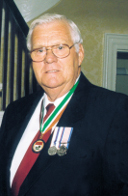 The late Honourable Gilbert Ralph Clements was the thirty-eighth Lieutenant Governor of the Province since the creation of the colony in 1769 and the twenty-fifth since Confederation. He was installed as Lieutenant Governor on  August 30, 1995.
Mr. Clements was born September 11, 1928, at Victoria Cross, Prince Edward island. He was educated at Montague Memorial School and Mount Allison.
Before entering politics, Mr. Clements owned and operated a successful electrical contracting and appliance sales business and later owned and operated a real estate and insurance business.
He was active in community affairs serving in many organizations. He also served a number of years as a school trustee, town councillor, and a fireman. He is a member of the Hillcrest United Church and Saint Andrews Masonic Lodge #13 AF&AM, Montague.
Mr. Clements serves as Chancellor of the Order of Prince Edward Island and was the first recipient to receive the Medal of Merit (insignia of the Order) in August 1996. He is also the recipient of the Canada 125 Medal and the Queen's Jubilee Medal. In October 1996, Mr. Clements was invested as a Knight of Justice in the Order of St. John at an investiture ceremony at the Notre Dame Basilica, Ottawa, and now serves as Vice Prior for the Province of Prince Edward Island. The Lieutenant Governor also serves as Patron to more than 30 organizations.
First elected to the Legislative Assembly in 1970 as the Member for the Fourth District of Kings, Mr. Clements was re-elected at six subsequent general elections in 1974, 1979, 1982, 1986, 1989 and 1993.
He served as Opposition Critic for Finance and Environment during the period 1979-1986 and held various Ministerial portfolios in the government of Premier Alex Campbell including Municipal Affairs, Tourism, Parks & Conservation and Community & Cultural Affairs. In the government of Premier Joseph Ghiz he served as Minister of the Environment and Minister of Finance.
Mr. Clements was Chair of the Canadian Council of Environment Ministers on two separate occasions. In 1976, he was recognized as the only elected official to receive the Travel Industry Association of Canada Crandall Award, given for the greatest contribution to preserving the environment in Canada. He attended Conferences on the Environment in England, U.S.S.R., Venezuela and U.S.A. (Alaska). In 1992, he was an official member of the Canadian Delegation to the "Earth Summit" in Rio de Janeiro.
Mr. Clements died November 27, 2012. He was married to Wilma Cheverie MacLure of Montague and had  three children – Robert, David and Gail – and five grandchildren.
Dr. George Dewar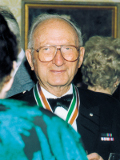 He was born at New Perth in 1915. After attending Prince of Wales College, he studied medicine at Dalhousie University, and later at the University of Toronto. He served as a commissioned officer in the Royal Canadian Army Medical Corps between 1941 and 1946, and following the war began a general medical practise at O'Leary that has spanned several generations.  Within his first chosen profession, George Dewar has served as President of the P.E.I. Medical Society, and is a Charter Member and Founding Director of the College of Family Physicians of Canada. He co-founded the O'Leary Medical Clinic in 1975, was a trustee of the Community Hospital from 1955 to 1985, and is a member or past member of the medical staffs of the Community, Western, Tyne Valley and Prince County hospitals.
George Dewar represented the Second District of Prince in the Legislative Assembly of Prince Edward Island for 21 years, and during that time held several cabinet portfolios. From 1970 to 1973 he was Interim Leader of the Progressive Conservative Party of P.E.I. and Leader of the Opposition. He also served as an elected Commissioner for the Village of O'Leary. He was presented with the Canada Medal in 1967, the Queens Jubilee Medal in 1978, and most recently in 1993 with the Order of Canada.
Throughout his medical career, as an elected representative of the people, and as an author and historian, Dr. Dewar has worked tirelessly to further the interests of his province and local community. Combining unusual intellectual gifts, boundless energy and enthusiasm, and a resolute character, his accomplishments are legion.
Dr. Kent Ellis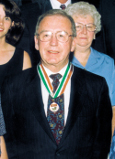 Kent Ellis was born in 1932 at Souris. He graduated from Prince of Wales College in 1954, and after four years service with the Royal Canadian Air Force, continued his studies at Dalhousie University, completing his medical degree in 1959. Shortly afterwards, he began his practice at Hunter River. He is a former President of the P.E.I. Medical Society, former member of the Canadian Medical Association Board, and holds a Fellowship in Family Medicine from the College of Family Physicians of Canada. Most recently, Dr. Ellis served on the Provincial Health Reform Task Force.
Over the years, Kent Ellis not only has distinguished himself as a family physician, but also as a community leader and businessman. His Marco Polo Camping an Trailering Resort at Cavendish is a tourism landmark, and he is a former President of both the Cavendish Area Tourist Association and the P.E.I. Tourist Association. He has served as a local school trustee, a director of amateur hockey, and has been the driving force behind numerous projects and initiatives in his own local community. In 1992, the Government of Canada presented him with the 125th Commemoration Medal, and in 1995 he was the recipient of the P.E.I. Rural Beautification Society's Lieutenant-Governor's Award.
Amongst his colleagues, Kent Ellis is both admired and revered. But to his many patients, Dr. Ellis is more than a physician of obvious professional skill and commitment. He is their neighbour and friend, whose compassionate and caring spirit always is evident in times of need. While ready to embrace new methods and technologies in his profession, he continues to represent the best traditions of the family doctor.
James Hogan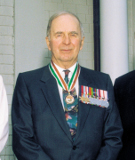 Born at Summerside in 1918, Jim Hogan was educated at local public schools, and at Saint Dunstan's High School. At the outbreak of World War II, he enlisted with the 8th Heavy Anti-Aircraft Battery and served overseas.
Returning to Prince Edward Island following the war, he quickly involved himself in the future development of his own community. An excellent athlete himself, Jim Hogan showed a special ability to relate to youth. Through his coaching of hockey, rugby and baseball, he has taught several generations of Islanders the ethics, values, and decision-making skills that are the true elements of athletic competition. His accomplishments as a sport builder and organizer are many. In 1947, he organized the Summerside Athletic Association and served as its President for eight years, and for fifteen years was chairman of the Prince Edward Island Sports Hall of Fame.
Jim Hogan's other special mission has been the Royal Canadian Legion. From 1949 to 1983 he was the Legion's Services Officer responsible for assisting veterans and their dependents in applying for benefits. In the early 1960's he conducted a fund raising program to construct the present Legion building in Summerside, and he continues to unselfishly employ his amazing fund raising abilities to the benefit of numerous charitable organizations and causes.
Jim Hogan's life has been the epitome of community service. Believing in the betterment of society, and always willing to devote his energy and enthusiasm, he has earned the respect and admiration of all who have come to know him.
Ulric Poirier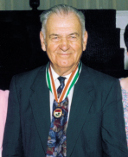 Born at Mont-Carmel in 1917, Joseph Ulric Poirier grew up in a large family, where farming and fishing was the way of life. This young Acadian, however, would become a teacher. He graduated from Prince of Wales College in 1935, and, following additional studies at Mount Allison University, he accepted a teaching assignment at Roxbury School in Bloomfield Parish. He later taught at Duvar and Mont-Carmel, before enlisting in the Canadian Army in 1940.
Following his military service, Ulric Poirier returned to his Acadian community, and immediately began to apply his energy and talents to its social and economic development. Proud of his own heritage, and optimistic about the future that Island Acadians could create for themselves, he naturally embraced the co-operative philosophy. From 1946 to 1954, he was Manager of the Mont-Carmel Fisheries Co-operative, and from 1954 until 1962 was Manager of the Acadian Fishermans' Amalgamated Co-operative. During these years, his leadership also led to the establishment of the Acadian Credit Union, and the Wellington Co-operative store.
Ill health forced Ulric Poirier to retire in 1962, but his vision, knowledge and leadership continued to shine. Greatly interested in education, he was the driving force behind the establishment of Evangeline Regional High School, the first Island school in which French students were to be taught in their own language. Other remarkable community successes included the Acadian Pioneer Village at Mont Carmel, and the Acadian Museum at Miscouche.
Always able to keep many irons in the fire, Ulric Poirier has been a formidable community leader, a man of humility and unselfishness, helping others to help themselves. His record of achievement, especially on behalf of the Acadian people of Prince Edward Island, is nothing short of remarkable.
Honourable Marion Reid (Chancellor: 1995)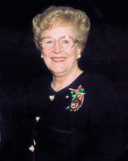 Born at North Rustico in 1929, Marion Reid was educated as a teacher, completing her studies at Prince of Wales college, Saint Dunstan's University, and the University of Prince Edward Island. For twenty-one years she dedicated herself to the classroom, also serving for a time as Principal of St. Ann's Elementary School, Hope River.
Marion Reid was first elected to the Legislative Assembly of Prince Edward Island in 1979, and was re-elected in both the 1982 and 1986 general elections. In 1979, she was appointed Deputy Speaker, and in 1983 she became this province's first woman Speaker of the Assembly. From 1986 to 1989, she served in the capacity of Opposition House Leader.
In 1990, Marion Reid was appointed Lieutenant Governor of Prince Edward Island, once again, the first woman to hold this prestigious office.
She has been accorded numerous honours, including the Canada 125 Medal in 1992, the Rural Beautification Society's W.R. Shaw Award in 1995, and most recently the Order of Canada. In 1990, she was invested as Dame of Grace in the Order of St. John. At present, she is the Interim Chair of the Premier's Action Committee on Family Violence.
Supremely dedicated to family and community, and to the welfare of her province, Marion Reid has distinguished herself as a public servant. With dignity, charm, and great warmth of personality, she represents many of the values and qualities that are the bed rock of Island life.
For further information on the Order of PEI, contact:
JoAnne Holden
Secretary to the Order of Prince Edward Island
Legislative Assembly
Office of the Clerk
197 Richmond Street
PO Box 2000
Charlottetown, PE  C1A 7N8
Phone: 902-368-5970
Fax: 902-368-5175
Email: jdholden@assembly.pe.ca