2000 Recipients of the Medal of Merit
J. Henri Gaudet

In the words of the Prince Edward Island Museum and Heritage Foundation, "Caring deeply about community and heritage and doing something about it is often a long and lonely fight." As a teacher, musician, genealogist and historian, J.-Henri Gaudet has spread an awareness and appreciation of history and the arts to many people. Born in Tignish in 1932, Mr. Gaudet has served his home community in many different ways. Contributions as choir director and organist at St. Simon and St. Jude Church (1947-1952 & 1963-2000), founder and curator of the Tignish Museum (1981-2000), co-founder of the Tignish Irish Moss Festival and President of the West Prince Acadian History Committee since 1984. J.-Henri Gaudet spearheaded efforts to ensure the restoration of the Louis Mitchell Organ at St. Simon and St. Jude Church in Tignish and was for years a Member of the Acadian Ecomuseu of Prince Edward Island in Miscouche. These are just a few examples of the various areas of interest which have received the benefit of Mr. Gaudet's talents and energy.
Mr. Gaudet has received numerous awards and honours, including; the Heritage Awareness Award (1983), Award of Honor, P.E.I. Museum and Heritage Foundation (1986), Tignish Citizen of the Year (1988), Prix L'Escarbot for volunteerism (1991), John Hunter Duvar Award (1999) from the West Prince Council of the Arts and the writing award (1999) from the P.E.I. Museum and Heritage Foundation for the publication of a bilingual pictorial history of Tignish (Photo Historica 1799-1999). In addition to "Photo Historica", Mr. Gaudet has also published "The Tignish Pipe Organ in Musical Retrospect" in 1982 and is presently working on a genealogy of the people of Tignish.
Mr. Gaudet's efforts to preserve and promote the history and arts of his West Prince Community and indeed, all of Prince Edward Island, illustrate his deeply held belief in their inherent importance. Future generations of Prince Edward Islanders will be indebted to Mr. Gaudet for his exemplary contributions.
Arthur Hudson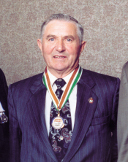 Arthur Hudson was born at Cascumpec in 1925 and spent his lifetime contributing to the social, economic and cultural growth of Prince Edward Island and it's people.
His involvements are many and include; former long serving school board trustee, President of the P.E.I. School Trustees' Association, Chair of the Unit 1 School Board, assistance to children in need of extra help with oral reading (L.O.V.E. - Let Older Volunteers Educate), teacher of adult upgrading courses for five years, Sunday school teacher, elder and Chairman of the Board of Trustees and Chairman of the Membership Committee of the United Church, President of the United Church Cemetery Committee in Cascumpec, one of the initial organizers of the P.E.I. Plowing Council, long time competitor and judge in provincial and national plowing competitions, with more than 30 years of distinguished service (acknowledged by having been made the only Honorary Lifetime Member (to date)) and Charter Member of the P.E.I. Association of Exhibitions for his extensive work with the Provincial and Prince County Exhibitions.
In addition, Mr. Hudson has served his community through involvement in sport by participation in community softball and hockey and as a member of the P.E.I. Museum and Heritage Foundation, the P.E.I. Genealogical Society, President of the Cascumpec and Fortune Cove Community Group Inc., President of the Cascumpec and Fortune Cove Historical Society and co-author of Volumes 1 & 2 of "Preserving the Past", a history of Cascumpec - Fortune Cove from 1779-1997 for which he received an award from the PEI Museum and Heritage Foundation for achievement in the field of Island Heritage and as President of the Friends of the Alberton Museum.
Mr. Hudson has also served on the P.E.I. Land Use Commission (1983-1986), Board of Marine Atlantic (1987-1990) and as a Commissioner with the Island Regulatory and Appeals Commission.
As is obvious from the foregoing, Mr. Hudson has been very active in supporting his local and provincial communities and provides us with a living example of how one individual can make a significant difference and contribution to Prince Edward Island and its people.
Shirley McGinn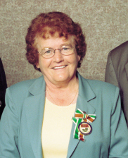 Former elementary school teacher Shirley McGinn is well known for her exceptional contributions to the well being of Island children and seniors. Now a full time volunteer, those who know of Ms. McGinn's work cannot say enough. In the word's of her nominator, "…those that move about our community in a quiet, unassuming manner can make a worthwhile difference to those along the way, often without much public recognition. Such is the example of Shirley McGinn as she gives of herself to her community and its people…".
After retirement from a 43 year elementary school teaching career, Ms. McGinn began contributing as a full time volunteer at Parkdale Elementary School working the same hours as full time staff members. She faithfully assists students who need help with language arts and math ensuring that she never leaves her role as volunteer. Through this role, Ms. McGinn has made a lasting difference in the lives of many Island children. An example often cited is that of children who may be struggling with school work or home issues. They may be progressing slowly and be withdrawn; however, with special attention and encouragement from Shirley, these children slowly come out of their respective shells and begin to thrive. This is only one example of where Shirley has directly and positively influenced the lives of children.
In addition to this service to the community, Ms. McGinn also volunteers at the Queen Elizabeth Hospital at the Pediatric Unit and at the Information Desk. Again, it is the time with children that Shirley enjoys most and where the most benefit for our Island society is achieved. Children are drawn to her.
Ms. McGinn is also a volunteer with Big Brothers - Big Sisters where she has been a special Big Sister of Mikaila for the past four years. In recognition of these contributions, at this year's National Convention for Big Brothers - Big Sisters in Toronto, Shirley received the Nissan Big Brothers - Big Sisters Senior Citizenship Award for her volunteerism in the organization. She teaches Catechism and corresponds with twelve children through the International Christian Relief Fund. She also volunteers at Sunset Lodge where she visits, reads and simply listens to residents on Saturday evenings. Each person she visits feels her love and interest in them.
Shirley is noted as a person who neither desires or requires public recognition. She sets about her business in a quiet and unobtrusive way in an effort to make those she cares for feel special and important. Her goal may have been to make a small difference in the lives of some but what she has achieved is much more. She serves as inspiration for us all. To serve our communities and, more importantly, to serve the people in our communities who are in need, especially the most vulnerable.
For further information on the Order of PEI, contact:
JoAnne Holden
Secretary to the Order of Prince Edward Island
Legislative Assembly
Office of the Clerk
197 Richmond Street
PO Box 2000
Charlottetown, PE  C1A 7N8
Phone: 902-368-5970
Fax: 902-368-5175
Email: jdholden@assembly.pe.ca