2001 Recipients of the Medal of Merit
Honourable J. Léonce Bernard, O.P.E.I. (Chancellor: 2001-2006)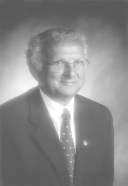 Order of PEI Honourable J. Léonce Bernard The Honourable J. Léonce Bernard was the thirty-ninth Lieutenant Governor of the Province since the creation of the colony in 1769 and the twenty-sixth since Confederation. He was installed as Lieutenant Governor on May 28, 2001.
Mr. Bernard was born May 23, 1943, in Abram-Village, Prince Edward Island. He received his early education and graduated from Evangeline School and later completed bookkeeping and accounting courses while a member of the Royal Canadian Air Force.
Before entering politics, Mr. Bernard was employed as office manager with McGowan Motors in Montague, PEI, and as General manager of the Evangeline Credit Union in Wellington, PEI. Since leaving politics, he served as General Manager and Accountant with the Coopérative Le Village Pionnier Acadien ltée and once again as Manager of the Evangeline Credit Union.
Mr. Bernard is a strong supporter of the co-operative movement both provincially and nationally having served as President of the Conseil de la coopération de l'Î.-P.-É., as well as a member, vice president and treasurer of the Conseil canadien de la coopération, Minister responsible for co-operatives, member of the Credit Union Deposit Insurance Coporation, and member of the Regional Community Development Cooperative Board.
He was active in community affairs serving in executive positions of many organizations: Village of Wellington, Federation of P.E.I. Municipalities, United Way, French Language School Board, Wellington Fire Department and Firemen's Club, Wellington Boys and Girls Club, Wellington and Area Minor Hockey and Evangeline Tourism Association. He is a member of the Wellington Royal Canadian Legion (Branch 17), the Club Richelieu Évangéline and the Immaculate Conception Church.
First elected to the Legislative Assembly as Member for Third Prince in a by-election in 1975, Mr. Bernard was re-elected in five subsequent general elections in 1978, 1979, 1982, 1986, and 1989.
He was in Opposition from 1979 to 1986. In the government of Premier Joseph Ghiz, he served as Minister of Industry and Chairman of the P.E.I. Development Agency from 1986 to 1989, and from 1989-1991 was Minister of Fisheries and Community Affairs.
Mr. Bernard is married to Florence Gallant of Cape Egmont. They have four children - Michel, Pierre, Francine and Charles and two grandsons.
Dr. John H. Maloney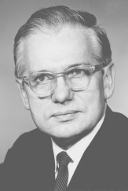 We as Islanders owe a debt of gratitude to the late Dr. John H. Maloney for his contribution to our Island society. After his education at McGill University in 1942, where he received his medical degree, he became a Member of the Royal Canadian Army Medical Core and served overseas for two years during WWII.
Following the War, he settled in Charlottetown where he and his wife Marguerite raised five children. Over the next four decades he contributed greatly in his practice as a doctor in the field of obstetrics and gynecology.
In 1970, Dr. Maloney became a Member of the Legislative Assembly and served in the Provincial Government as Cabinet Minister for five different portfolios over the following nine years. During those years in Government his vision was instrumental in establishing the Prince Edward Island Museum and Heritage Foundation; the Charlottetown Area Development Corporation; the Island's first industrial park in West Royalty; the introduction of Medicare to the Province; bringing the education system to national standards through the building of new schools and Holland College as well as the continued development of the University of Prince Edward Island. All of these initiatives continue to leave a lasting and significant legacy in our Island community.
Dr. Maloney further contributed through service on numerous boards and associations related to medical and social issues. For example, his personal interest and research in archeology created a collection of artifacts that has substantially contributed to the preservation of the Island's Mi'kmaq culture.
As is evident from the foregoing, Dr. Maloney's interests were varied and significant. He served the people of Prince Edward Island in an exemplary fashion and is an outstanding example of the difference one person can make.
Maylea Manning

Born in Victoria, Prince Edward Island, Mrs. Maylea Manning has made an exceptional contribution. She has provided many years of outstanding leadership in the fields of agriculture, equestrian sports and music. Through these endeavours, Mrs. Manning has contributed significantly to the social, cultural and economic fabric and well being of our Province and its people. Her life has been dedicated to giving a helping hand to others  whether it be as an employee with the Provincial Department of Agriculture or through contributions to the Island's equestrian organizations or horse shows, the P.E.I. Music Festival, the Confederation Centre Boys Choir, the Provincial Exhibition or Old Home Week Horse Show, the Strathgartney Foundation or in her home community.
Mrs. Manning has worked tirelessly to make Prince Edward Island a better place. Some of the organizations and events that have benefited from Mrs. Manning's contributions include:
P.E.I. Women's Institute;
4-H, Rural Youth Fair;
Charlottetown Area Pony Club, Strathgartney;
Equestrian Centre;
P.E.I. Consumers Association;
Holland College Equine Program;
P.E.I. Music Festival;
Linden Farm;
Provincial, Regional and National Pony Clubs;
the Bible Society; and, 
the Heart and Stroke Foundation.
Mrs. Manning's contributions serve to remind us of the very ideals that the Order of Prince Edward Island was established to honour. Contributing significantly to the economic, social and cultural well being of Prince Edward Island, there is no question that Mrs. Manning has distinguished herself as an Islander who has contributed unselfishly for the benefit of her Island Community.
Kay Wall

Mrs. Kay Wall of New Annan has been an active volunteer in her Community and in the Province for over 38 years. Her extensive involvement and commitment in contributing to make Prince Edward Island a better place is very impressive. Her dedication is clearly demonstrated through participation in the following organizations and events:
New Annan Women's Institute (joined in 1963): former President, Secretary, Convenor and a Lifetime Member 
Community School (joined in 1975) in which she served as a teacher and is former President and Secretary Treasurer
Kensington Used Clothing Depot (served as President from 1986-1996)
4-H (served extensively at various levels beginning in 1969)
Malpeque Bay Environmental Society (beginning in 1989)
Active supporter of the Kensington Figure Skating Club
Canadian Red Cross Water Safety Day Camps (1966-2000)
Numerous other examples including participation in rural beautification events, active Member of the United Church and compassionate assistance to those in need in her community.
In acknowledging these accomplishments and contributions, Mrs. Wall has received recognition within her Community as Kensington & Area Outstanding Volunteer of the Year in 1997, recipient of the Queen's Jubilee Medal in 1977 and a Certificate from the PEI 4-H Council for over thirty years of leadership in 4-H.
Mrs. Wall continues to live her life unselfishly by contributing to others and to her community. It is obvious that she has lived her life, and has made a difference, by contributing wherever she could. She serves as a shining example of how we must all do our part to make Prince Edward Island a better place.
For further information on the Order of PEI, contact:
JoAnne Holden
Secretary to the Order of Prince Edward Island
Legislative Assembly
Office of the Clerk
197 Richmond Street
PO Box 2000
Charlottetown, PE  C1A 7N8
Phone: 902-368-5970
Fax: 902-368-5175
Email: jdholden@assembly.pe.ca