2005 Recipients of Medal of Merit
Angèle Arsenault, O.C.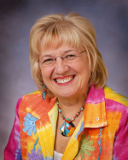 Angèle Arsenault has served as an ambassador for Prince Edward Island during her career as a singer - songwriter. Her joie de vivre and dynamic presence on stage have allowed her to send messages of hope and love to her audience.
Angèle Arsenault was born into a large Acadian family (the 8th of 14 children) in the small rural community of Abram-Village, Prince Edward Island. Her childhood years were filled with music, song and dance.  Attending  high school at Evangeline and continuing her education at Université de Moncton (where she started her career as a folk singer) and Université Laval where she obtained her Master of Arts Degree, she wisely decided in 1975 to follow her heart and try a career in the music industry.  The rest, as they say, is history. By 1979, after the release of her first three albums (one of which, entitled Libre, sold over 300,000 copies)she was performing before sold out crowds at the Place des arts in Montreal.  After the release of three more albums, Ms. Arsenault decided to explore the world of radio and television.  In 1988, she presented a song and poetry review entitled Éloizes et Étoiles with actress Viola Léger.  She also participated in various television shows including the series Au nom du père et du fils and the childrens series Alphabus and Sesame Street.  She also participated in writing and producing the play Pour le meilleur et pour le pire in collaboration with Sylvie Toupin.
While certainly not inclusive of all the contributions of Ms. Arsenault, other accomplishments include:
In 1992 - performing the songs La Bolduc for a popular show entitled Bonjour Madame Bolduc across Canada and France.
In 1994 she released an album entitled Transparente, reaffirming her joie de vivre and love for Acadia and containing her anthem "Grand Pre-".
In 1995 she recorded and released J'ai vécu bien des années (a compilation of 20 songs from previous albums) and also a Christmas album entitled Noël, c'est l'amour.
In 1996, after having lived 'away' for more than 30 years, Ms. Arsenault moved back to Prince Edward Island to be closer to her family and her roots.  Her significant contributions in the promotion of the french language and culture had not gone unnoticed.  In 1997 she received the Ordre de la Pléiade from the International Association of French Speaking Parliamentarians and also, that same year, became an honorary member of the Canadian Association of French Speaking Educators.  In 1999, she received an Honorary Doctorate Degree from the University of Prince Edward Island and recorded a new children's album.  In 2000, she was named Woman of the Year by the International Zonta Association.  Finally, in 2003, she was named an Officer of the Order of Canada by the Right Honourable Adrienne Clarkson, Governor General of Canada.
Ms. Arsenault's relentless pursuit of the promotion of the french language and culture have served Island Acadians and indeed all Prince Edward Islanders well.  She has become a model of hope and pride for Prince Edward Island Acadians and has served as an inspiration to a whole generation of youth by encouraging them to follow her example.
Leone Bagnall, C.M.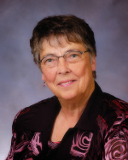 A teacher, politician, mother and grandmother, Mrs. Leone Bagnall (MacKay), C.M.of Hazel Grove has contributed to Prince Edward Island in many different ways.  In achieving her many accomplishments, Mrs. Bagnall's humble, graceful and generous manner served to prevail in promoting her ideals and#making Prince Edward Island a better place.
As an educator, Mrs. Bagnall clearly demonstrated leadership qualities as evidenced when she was named recipient of the Estelle Bowness Award in 1973 as the University of Prince Edward Island graduating student showing the most promise of inspirational teaching.  Inspired others she has...but not just in the classroom.  She was successful in seeking a seat in the Legislative Assembly in the General Election campaign of 1979.  With her honest and forthright approach, Mrs. Bagnall connected with her constituents and was returned to the Legislative Assembly in the next three General Elections.
Named Minister of Education in the Jim Lee Administration, Mrs. Bagnall was also named Minister responsible for the Status of Women, and, as the first woman Progressive Conservative Cabinet Minister in the history of the Province, went on to establish the P.E.I. Women's Secretariat.
In 1986, Mrs. Bagnall was named interim Leader of the Progressive Conservative Party of Prince Edward Island and Leader of the Official Opposition, another first for a woman on Prince Edward Island and a position she retained until the General Election of 1993 when she did not re-offer.
Born and raised in rural Prince Edward Island, Mrs. Bagnall married Erroll Bagnall of Hazel Grove in 1953 and together they raised five children.  Ever the strong proponent of the virtues of honesty, integrity and the lifestyle values of rural P.E.I., she continues to work hard for her community even after leaving her seat in the Legislative Assembly.  In acknowledgement of these contributions, she was named a recipient of the Canada 125 Medal in 1992 and invested as a Member of the Order of Canada in 1995.  Mrs. Bagnall was involved in the Hazel Grove Women's Institute (Past President), Central Queen's Home and School Association, Member of the P.E.I. Association for Children with Learning Disabilities, Member of the Hunter River United Church Women, Member of the Rural Beautification Society, served on the Planning and fundraising Committees for the Hunter River Medical Centre, Board Member of the L.M. Montgomery Land Trust, and Director of the QEH Foundation (Chairing the 2000/2001 Friends for Life Campaign).
Deservedly, as the first woman in Canadian history to occupy the position of Leader of Her Majesty's Loyal Opposition and in acknowledgement of her dedication and leadership, she was accorded the designation as "Honourable" Leader of the Opposition in 1986 by the late Hon. Joseph Ghiz, former Premier of Prince Edward Island.
Whether it be as a teacher, politician, cabinet minister or community leader, Mrs. Bagnall has consistently demonstrated her genuine nature and commitment to Prince Edward Island and it's people. Her efforts will leave a lasting and positive impression on Prince Edward Island and its people.
Derek Key, Q.C.
Mr. Derek D. Key was born, raised and now resides in the City of Summerside. A graduate of the University of Prince Edward Island and Dalhousie Law School, there are few examples of community life which have not received the benefit from Mr. Key's energy, talent and devotion.
Mr. Key has served as past President of the Greater Summerside Chamber of Commerce (1985 & 1992) and Past President of the Summerside Rotary Club. He has also been Chair of the Friendship Park campaign and Co-Chair of the Rotary Regional Library Campaign. He Chaired the fund raising committee for the Community Connections Campaign to build and equip a new facility for mentally and physically challenged adults. He has also served as Chair of the Rotary Summerside Foundation which provides funding for numerous community projects such as the Wellington Boys and Girls Club, Jubilee Theatre and housing renovations for the disabled. Mr. Key has received many acknowledgements from his community for the his tireless efforts on behalf of those in need including being named a Paul Harris Fellow in 1986 - the highest honour Rotarians bestow.
Other endeavours in which Mr. Key has been involved include Co-Chair of the Public Accessibility Campaign to help make local civic recreation facilities accessible to the mobility challenged, Secretary of the Summerside Christian Council and Member of the Board of Elders at Trinity United Church, Member of the Provincial Board of P.E.I. Scouts, former member of the Holland College Foundation (1992 - 1995), active Member of the PEI Law Society and recipient of the Queen's Counsel designation in recognition of his long and valued service to the profession of law and to community and provincial affairs. Mr. Key also served on the Premier's Task Force following the closure of CFB Summerside and was a founding Member of Slemon Park Corporation.
The City of Summerside has recognized Mr. Key by naming him Citizen of the Year in 1998 and by presenting him with the Mayor's Medal of Honour in 2003.  He also serves as vice-Chairman of the 2009 Canada Winter Games Bid Committee.
Mr. Key has also demonstrated his commitment to the Prince County Hospital Foundation Board, serving as Vice President and as Chair of the Foundation's Bring Good Health to Life Campaign which has raised $13.6 million to equip the new Prince County Hospital.
As the foregoing will attest, Mr. Key has contributed in many ways to make Prince Edward Island and his Community a better place in which to live.  Through his devotion to family, the community, his profession and those in need, Prince Edward Island has greatly benefited from Mr. Key's exemplary contributions.
For further information on the Order of PEI, contact:
JoAnne Holden
Secretary to the Order of Prince Edward Island
Legislative Assembly
Office of the Clerk
197 Richmond Street
PO Box 2000
Charlottetown, PE  C1A 7N8
Phone: 902-368-5970
Fax: 902-368-5175
Email: jdholden@assembly.pe.ca