2008 Recipients of the Medal of Merit
Chief Darlene Bernard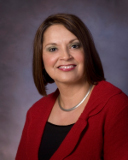 The Mi'kmaq people have a long, proud history in Prince Edward Island, and the Atlantic provinces. Lennox Island First Nation has distinguished itself in many ways, including recognition for strong leadership, which has demonstrated a commitment to maintaining Mi'kmaq customs and heritage while simultaneously moving outwards into increasingly challenging social and economic environments.
Chief Darlene Bernard is a dynamic, hard-working leader of the Lennox Island First Nation. Her energy and much-remarked upon determination is built on a strong foundation of ancestral virtues, which is given encouragement by community support. Band chief since 2001, earning re-election in 2007 - a sign that her plans reflect the community's aspirations - Bernard's initiatives reach into all aspects of First Nation life, with special attention paid to bridging gaps in understanding between band, provincial, and federal levels of government, and thereby securing more funding for projects aimed at the betterment of Lennox Island and, by extension, Prince Edward Island.
There are many other matters Bernard has pursued as band chief, among them basic necessities such as safe drinking water on Lennox Island, and increased housing. A long-held interest of hers, one she had worked on prior to becoming chief, is making sure that First Nation children, youth, and adults have access to increased education opportunities so that they can work and compete in the global marketplace. Speaking about a recent workforce workshop, Bernard said, "As our communities continue to grow, we must continue to work with our partners to ensure skills are developed and opportunities sought that allow our community members to succeed." An illustration of her efforts at broadening the opportunities for economic advancement can be seen in acquiring lobster fishing rights for Lennox Island fishers.
On social matters, last year Bernard and the band council set up the Lennox Island women's shelter, the first on a reserve in our province. It's a sanctuary from violence, and has employment, parenting and health components. This year, when the Mi'kmaq Confederacy established Family PRIDE (Prevention, Respect, Intervention, Development and Education) Program, Bernard judged the program a success, since it "reinforces the traditional pattern of caring, sharing and cooperation to ensure the well-being of our children and their families."
With actions such as those, coupled with her profile and acknowledged importance as a regional and national figure, Bernard is a role model for women in Lennox Island, and throughout the Maritimes.
Supported by her family, Bernard rises above personal health issues to manage band matters on the local, provincial, and national levels. When we remember that the Order of P.E.I. "recognizes individual excellence and contributions to the social, cultural and economic life of PEI and its residents," then we can place Bernard's efforts in a larger context. She began in Lennox Island, but her life, the force behind it, and the example she sets, extend beyond Prince Edward Island's shores. They contribute to, and have relevance for, the renewal of our ideas on what education means, how we govern ourselves, what is socially just, and what people from First Nation cultures regularly contribute to the culture of Canada.
Garnet Rankin Buell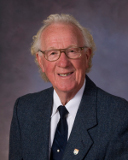 Garnet Buell's life illustrates how we can contribute to the betterment of our society when we remember to place the greater good of others above our own needs.
As a musician, Garnet Buell has a devoted following, built up over many decades of playing in small communities in Prince Edward Island, entertaining us on television with Community Showcase, and performing in as prominent a venue as Nashville, Tennessee. His work at festivals and fund-raisers has been augmented by several CD recordings that are popular with fans throughout North America.
For some time Garnet Buell has put his love of music into public service by helping the Queen Elizabeth Hospital in its drives to purchase new medical equipment. Since 2001, due to efforts that have galvanized other like-minded spirits, he and the Murray River Ceilidh Committee have raised nearly $166,000 for our Province's largest hospital. This sustained commitment requires more than the ability to handle guitars, fiddle, and mandolin, which he does to great acclaim. It demands energy and drive to unite musicians and others in a common pursuit, to organize events that will encourage Islanders to open their wallets and purses, and the determination to reach a goal that is meant to benefit everyone. Beyond that, it requires a ceaseless and unstinting generosity of spirit.
The same passion and civic sensibility exhibited in his work for the Queen Elizabeth Hospital lies underneath Garnet Buell's work in helping Murray River grow and attract more visitors and business. Apart from working towards restoring the Grist Mill, he has been instrumental in helping to refurbish the Murray River Hall. His roots go deep, and he has never forgotten what it means to have pride in your home town.
Much of his fund-raising has been done for free, whether for a hospital, a community, or an individual in need. His selfless and tireless work over many years for various organizations received recognized in 2007 when he was presented with the Prince Edward Island Volunteer Recognition award.
As if those achievements weren't enough, Garnet Buell has transformed his 100-acre homestead in Abney into a wildlife habitat. His intensive stewardship - for example, tree-planting and the installation of lakes - shows respect for nature, and is a continuation and expansion of his lifelong love of animals. Those efforts have resulted in the creation of a sanctuary and home for reptiles, amphibians, birds, partridge, and geese, and have brought Garnet Buell praise and awards from Ducks Unlimited and Island Nature Trust, as well as the Lieutenant Governor's Greenwing Conservation Award in 2005.
People usually think about taking life easy after working for six decades. This isn't the case with Garnet Buell. Regularly, he appears at ceilidhs and events that raise funds for this or that valued cause, or he is feeding the many geese on the Garnet Buell Natural Area that he has donated to Island Nature Trust.
Garnet Buell's musicianship, undimmed energy, and awareness of the role the individual can play in society, have inspired many people. His contribution to our cultural, social, and economic life makes him a worthy recipient of the Order of Prince Edward Island.
Nancy Ann Hamill
Fortitude. Resilience. Stamina. The optimism that comes from a realistic assessment of one's deepest strengths and abilities versus the severe challenges ahead.
These words and phrases only begin to give us an understanding of Nancy Hamill, of Mill River East. This health advocate, teacher, and education activist leads a whirlwind life dedicated to causes that are local, overseas, or which know no boundaries. She has become a role model for students, cancer patients, fellow teachers, and community-minded citizens.
It didn't have to be that way. Life could have taken another route when, in 1995, Nancy Hamill was diagnosed with Non-Hodgkin lymphoma, at the age of 27. The next year she endured bone marrow surgery, as well as lung surgery. Her spirit didn't diminish. She told her doctor that she was one hundred per cent positive she would recover. Despite more operations for various conditions, she emerged energized from this long ordeal - one that would have left most others wishing for a quiet life - thanks in part to the care given her, her own natural strength, and the desire to see her young daughter grow up. Her family stood by her - her husband, parents and in-laws - and her brother Michael donated bone marrow.
Once she had recovered, Nancy Hamill turned her energy towards charitable works. She joined the Canadian Cancer Society, eventually becoming a board member. She brought to West Prince the Relay for Life, which since its inception has been extremely successful at raising funds for cancer research. Conscious of her own brush with mortality, and of how isolated she felt when first diagnosed, Nancy Hamill became involved with Cancer Connection, a support system that allows those afflicted with cancer to talk to someone who has experienced their illness. Anyone could take comfort from talking with someone so determined both to make her way back to health and to transform a dark time into a beacon of hope for others.
In 2005, the Canadian Cancer Society awarded Nancy Hamill the Medal of Courage for exhibiting an extraordinary nature in her personal fight with cancer, and for her tireless fund-raising and other work to encourage awareness about cancer issues. In its history, this medal has only been awarded to one other Islander, indicating the very special qualities the recipient must possess. National acclaim continued when Flare Magazine named her Volunteer of the Year in 2007, acknowledging what many in West Prince, and the rest of the Island, already knew: that Hamill's efforts, at the personal, group, community, and county levels, were bearing fruit in the continuing battle with cancer.
By occupation, Nancy Hamill is a substitute teacher. She regularly inspires students through talks and addresses. Her work with Habitat for Humanity extends her reach from the local classroom to Africa, which she will re-visit in November 2008 as a team leader. She has also begun a new campaign on poverty which allows Canadian schools to adopt African schools for a year, providing essential supplies to students who would not otherwise have them. Nancy Hamill's public service to the Island cannot be fully expressed in a few words, but is recognized by inclusion in the Order of Prince Edward Island.
For further information on the Order of PEI, contact:
JoAnne Holden
Secretary to the Order of Prince Edward Island
Legislative Assembly
Office of the Clerk
197 Richmond Street
PO Box 2000
Charlottetown, PE  C1A 7N8
Phone: 902-368-5970
Fax: 902-368-5175
Email: jdholden@assembly.pe.ca