2011 Recipients of the Medal of Merit
William Callbeck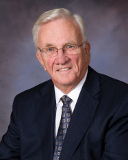 There are people for whom charity and volunteerism are expressions of their character and outlets for their humanitarianism. Throughout his life, William Callbeck of Central Bedeque has been a notable presence on the Island, in the community, in his church, and in business circles, for his support of worthwhile causes.
Callbeck's involvement in Mid Isle Motel, R.E. Gallant, and Callbecks Ltd., as well as his position on boards and associations that had to do with business, regional development and minor hockey, have made his name known across the province, while providing him the means to extend his charitable impulses. Those who worked for Callbeck talk about the nature of his business enterprises, and have seen their children and grandchildren also come to work in the same family of companies. Some have been the direct beneficiary of his generosity when their personal circumstances were difficult. This demonstrates an important and increasingly seldom-found factor about a job: if you're treated well and are respected, and if you work hard, you'll be loyal and provide good service.
Hard work is familiar to Callbeck. His activity in many fields of operation include a dedication to causes such as mental health, and has made him a needed example of someone who, despite the many demands on his time and energy, embraces public service where others shrink from it, or think only of themselves and a narrow circle of family and friends. He has received much from Prince Edward Island, and has given much back, both publicly and in acts of anonymous assistance to those in need.
Callbeck's involvement with boards such as Industrial Enterprises Ltd. and Summerside Regional Development Ltd., and the sale of a former site of business to Central Bedeque for one dollar, indicate his abiding interest in ensuring that communities prosper. When one considers Callbeck's actions, an old saying comes to mind: "If we do not lay ourselves out in the service of mankind whom should we serve?" Additionally, he has given his energies to the Bedeque United Church by acting in various capacities, and has kept the needs of children in mind through his contributions to rebuild Bedeque Recreational Centre and a new lodge at Camp Abegweit.
Callbeck speaks five languages of service: to religion, social concerns, community, commerce, and the individual. His work ethic and philanthropy are present for all to see in the landscape of rural PEI and in the lives of his fellow citizens, employees and neighbours. William Callbeck personifies what the Order of Prince Edward Island refers to as "contributions to the social, cultural and economic life" of our Province./p>
Eleanor Davies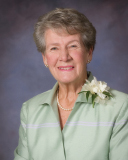 Dag Hammarskjold, a former Secretary-General of the United Nations, once said: "Constant attention by a good nurse may be just as important as a major operation by a surgeon." With that in mind, it's appropriate to recognize Eleanor Davies of Stratford as a recipient of the Order of Prince Edward Island.
For over fifty years Davies has put her energy, and a sense of social responsibility, into various health care and social service pursuits, especially her roles as a volunteer, a nurse, and an advocate of hospice care. She moved into the latter area after working as a nurse in the 1960s and 1970s. In 1985 she was a founding member of what was once known as the Island Hospice Association. From the start this work entailed many duties and responsibilities, and her rich lifetime of experiences deepened the historical work Davies had published in 2010: "I Know An Angel: The First 25 Years of Hospice Palliative Care in PEI". To this day, she is a volunteer for the Prince Edward Home palliative care unit, a sign that she continues to draw inspiration from her work in almost the same breath as she provides comfort to the ailing.
Aside from being a nurse and a hospice worker, occupations that require medical training, good listening skills, and compassion, for seven years Davies demonstrated her organizational abilities while holding the position of volunteer coordinator for the hospice association. This tenure becomes more remarkable when we learn that she did this without getting paid. In recognition of her steadfast devotion to hospice care in hospitals, the Prince Edward Home, and the houses of those whose health was declining, in 2003 the Hospice Palliative Care Association of PEI awarded Davies with a Lifetime Award.
The duties of a nurse and hospice worker have gone along with Davies' church work at Park Royal United Church Women in a number of capacities, volunteer work with the Girl Guides, and fundraising for the Queen Elizabeth Hospital. A smaller, but by no means less significant, illustration of her commitment to the well-being of her community and the environment can be seen each spring and fall as she cleans up a stretch of road she likes to walk. She truly exemplifies the early hospice movement's motto: Make Each Day Count.
Davies' long and rewarding career in the health care sector warrants her inclusion on the illustrious roll of those who have received the Order of Prince Edward Island. This honour expresses Prince Edward Island's awareness of, and admiration and respect for, a citizen who, with dignity and care, has helped reduce the pain and sorrow of those who are in the last days of their lives.
Honourable H. Frank Lewis (Chancellor: 2011-2017)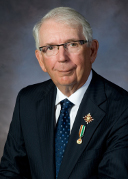 H. Frank Lewis is a life-long resident of York, Prince Edward Island, where many of his ancestors settled, some as early as 1812. Mr. Lewis had a lengthy career in business including several successful entrepreneurial ventures, notably in tourism, and is most widely known as a broadcasting industry executive with a career that began in 1966.From the early days of his working life in Charlottetown, Mr. Lewis has been actively engaged with business and community organizations as a volunteer, leader and mentor. Many organizations have recognized him for his leadership, commitment and contributions. His awards include induction into the Canadian Association of Broadcasters Hall of Fame in 2006 and the Junior Achievement of Prince Edward Island Business Hall of Fame in 2010.In fulfilling his duties as Lieutenant Governor, Mr. Lewis will continue to reach out to the business community and non-profit organizations across Prince Edward Island to acknowledge their contributions to a prosperous and caring society.
The Honourable H. Frank Lewis was sworn in as Lieutenant Governor of Prince Edward Island and invested as a member of the Order of P.E.I., for which he serves as Chancellor, in a special ceremony on August 15, 2011. He is the 41st Lieutenant Governor since the colony of PEI was established and the 28th since Confederation.
His Honour is married to Dorothy (Millar) for they have five children, 11 grandchildren and three great-grandchildren.
Dr. David Wong
The care of our youngest Islanders has been the main concern of Dr. David Wong for over a quarter of a century. In 1986 he made Summerside his home, quickly proving indispensable to very young children, as well as their families, as the only paediatrician in the area. Without his passionate efforts and tireless dedication to health matters, Prince County Hospital would not have established a neonatal unit when it did or, in time, an Asthma Education Centre.
Wong added to his knowledge by taking instruction in neonatal resuscitation, and passed on these skills to nurses and respiratory therapists. He has long advocated education in this matter, and was one of the founding members of the PEI Breastfeeding Coalition. By taking students into his community-based practice so they could train in paediatrics, he has empowered many to learn more about the care of newborns generally. Further, in 1995 he set up the Dr. Wong Education Fund so that nurses could continue their education, and via disbursements of thousands of dollars has enabled them to further their careers and deepen their knowledge, to their benefit and the benefit of Islanders.
Aware that his time with patients meant he could only see a small portion of his fellow citizens, in 1996 Wong started writing a medical column in a newspaper to reach the wider public. This public approach goes along with medical articles he has co-written, and the lectures he has given to health and education groups, hospital committees and universities.
Wong's efforts have not stopped there. He has met with fellow medical practitioners and politicians to improve access to expensive drugs for those with ADHD, and has sidestepped obstacles to such access by appealing to manufacturers directly. Of a piece with his emphasis on the importance of neonatal care, Wong helped found the PEI Network for Injury Prevention. He has worked to further safety for young children through the use of helmets when bicycling, downhill skiing and snowboarding, and is against their riding ATVs.
This might seem more than enough work for one person to do, but it doesn't take into account his participation on boards and committees such as the Canadian Paediatric Society and the Regional Advisory Committee of the Royal College of Physicians and Surgeons of Canada. He has also served on Board of Governors of UPEI.
Wong's devotion to issues such as neonatal care, asthma education and ADHD, and his participation in health care bodies such as the Premier's Council on Healthy Child Development, have improved the lives of many children. These exceptional contributions demonstrate that Dr. David Wong matches the criteria for receipt of the Order of Prince Edward Island.
For further information on the Order of PEI, contact:
JoAnne Holden
Secretary to the Order of Prince Edward Island
Legislative Assembly
Office of the Clerk
197 Richmond Street
PO Box 2000
Charlottetown, PE  C1A 7N8
Phone: 902-368-5970
Fax: 902-368-5175
Email: jdholden@assembly.pe.ca