2012 Recipients of the Medal of Merit
Emily Bryant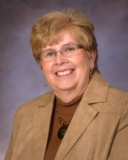 There are neighbours, acquaintances and friends who enrich our lives and that of the larger community. Then there are those special few who merit recognition for their contributions to the fabric of the town or city we share. Among that select group is Emily Bryant. In her ceaseless efforts to help others she has proven to be a worthy recipient of the Order of Prince Edward Island.
For over 35 years Bryant was involved in health care as a nurse or nursing instructor, held administrative posts, acted as a consultant on mental health issues, and revised the curriculum for resident care workers. Recognition of her abilities has come from peers and through the receipt of the National President's Award for Prince Edward Island, the Marjorie Hiscott-Keyes Award, and the Health for Life Certificate. Apart from this activity in a vital aspect of Island life, Bryant is known for her dedication and commitment to the community of Clyde River. Whether it's reclaiming a woodlot so that it becomes a lively green space enjoyed by children and adults, or enshrining and establishing the heritage of her home town through the publication of The History and Stories of Clyde River, Bryant has shown devotion to where she lives, and received the PEI Heritage Award in response. A poet once wrote, "God made the country, and man made the town." That is certainly true in this case.
Bryant's notable community leadership that has helped shape Clyde River is evident in the fundraising she does, in the close ties she has with its residents and organizations, and in projects, born of "big dreams" as someone remarked about her, such as establishing a community choir, beautifying the land, and refurbishing a community centre. Even the field of music has benefitted from Bryant's touch, and in 2009 she received the Chesley A. MacDougall Award from the PEI Bluegrass and Oldtime Music Society. Acknowledging her legacy in the area of health care, in 2002 an award was named after her that is presented annually to a mental health nurse who exhibits outstanding service.
We would do well to keep Bryant's own words in mind: "Make a difference for others." Bryant's contribution to the social and cultural life of the Island has helped in the development of her beloved part of PEI and added, in small and large ways, to the health and well-being of the Province.
Sibyl Cutcliffe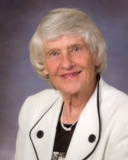 We know that without volunteers much that needs to be done would remain untouched. Money would not be raised, the sides of roads would stay clogged with debris and watersheds would deteriorate. Aware of this, it's likely that most of us have at various times in our lives aided those in need or assisted an organization in purchasing a new piece of medical equipment for the local hospital.
Fewer people, though, can say they have forty solid years of volunteerism behind them, yet that is what Sibyl Cutcliffe, recipient of the Order of Prince Edward Island, has given to the province. It's well-known that she possesses incredible fundraising abilities that are matched to what one person called her "boundless energy," enthusiasm and perseverance for causes she feels strongly about. "A different world cannot be built by indifferent people," Nelson Mandela said.
Cutcliffe, never indifferent, has worked with dedication on behalf of the Queen Elizabeth Hospital, the United Church, the Gold Cup Parade Committee and numerous committees and organization, all in an effort to better conditions on the Island. She served three terms as a member of the Charlottetown City Council, including time as Deputy Mayor, and in this capacity sat on diverse committees that dealt with the complex issues that regularly occur in the life of a city. Indeed, her time as a politician resulted in her receiving the Mayor's Award in 2001 where she was cited for giving herself "significantly and selflessly" to the community.
This is not the only time Cutcliffe has been singled out. In 2005 she was awarded the Aliant Long Term Dedication Award, and she has also been given the Mentor Award from the Rotary Club of Charlottetown Royalty. The spirit of service in Cutcliffe is seeks to do good wherever possible. A common phrase voiced by those who know her is: She's always there when she's needed. Some of Cutcliffe's work is less immediately noticeable, such as assisting church youth in public speaking, or as a Sunday school teacher, superintendent and board member, her concern for the homeless, and her keen interest in making friends with an understanding the lives of new immigrant to our Province.
For all these things, which can only barely address the sum total of four decades of experience, the Order of Prince Edward Island acknowledges Cutcliffe's exceptional efforts in volunteerism and public service.
Dr. Albert "Bud" Ings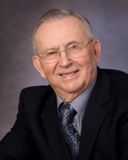 Veterinarian, politician, writer, musician: any one of these occupations or vocations would fill the days of most people and make them feel that life is productive and worthwhile. Unsatisfied at doing one thing well, Dr. Albert "Bud" Ings has lived a life that has encompassed the public domain, the health of animals, and the arts.
His career as a veterinarian, which started in the early 1950s, extended over fifty years, taking in his tenure as Minister of Agriculture and, later, Minister of Health and Social Services in the mid- to late-1970s in the PEI Legislative Assembly. Before his time as an MLA (1970-1982) Ings helped build the Montague Animal Hospital, and in 1984 established the Brudenell Animal Hospital. For his work with animals Ings received the Eugene Whelan Award from the Atlantic Veterinarian College in 2003.
He recently commemorated and celebrated his eventful life as a veterinarian in two light-hearted books, Mud, Sweat and Tears (2008) and Vet Behind the Years (2010), that also provide useful glimpses into an earlier time in the Island's history. Ings' care of animals is complemented by his ties to the well-being of the eastern region.
He sat on the Montague Town Council and belonged to the Montague Rotary Club, as well as the Royal Canadian Legion, the Junior Chamber of Commerce, the PEI Volkswagen Club, and the PEI Humane Society. In 2006 the Fiddlers Society of PEI presented him with a lifetime membership which Ings considered an honour coming from a special group, and it fits in with his singing and choir activities.
His veterinary career books have been well received by the public, and combine what may be two of his longest loves: work on behalf of animals, and performing at ceilidhs, fundraisers and in print. Ings' life and work have been validated at various times: in 2009 he was inducted into the Atlantic Agricultural Hall of Fame; in 2010 he received the Charlottetown Rotary Club Mentor Award, and in 2011 the PEI Heritage Award for, as its citation says, his "outstanding contribution to the preservation of the Heritage of Prince Edward Island."
In light of these many services, and as a sign of appreciation for the example he has set through his skills, compassion towards his fellows and to animals, and the overall richness of his life, Ings is a deserving recipient of the Order of Prince Edward Island.
For further information on the Order of PEI, contact:
JoAnne Holden
Secretary to the Order of Prince Edward Island
Legislative Assembly
Office of the Clerk
197 Richmond Street
PO Box 2000
Charlottetown, PE  C1A 7N8
Phone: 902-368-5970
Fax: 902-368-5175
Email: jdholden@assembly.pe.ca