2013 Recipients of the Medal of Merit
Honourable Alexander Bradshaw Campbell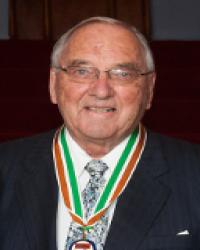 A theologian once remarked: "A politician thinks of the next election – a statesman of the next generation." The career and character of the Hon. Alexander Campbell, recipient of the Order of Prince Edward Island for his constructive and revitalizing contributions to the culture, legal framework and betterment of the province during his time as premier, exemplify the grand meaning behind the word statesman."
He entered the premier's office in 1966 at age 32 and stepped away from it in 1978, and in those 12 years Campbell helped to propel PEI's economic output to previously unknown heights, altered the face of education at the primary, elementary and advanced levels and, through the Comprehensive Development Plan, radically changed the Island's health care institutions, housing, employment figures and the nature of urban and rural life. To navigate bold plans through a one-seat majority in the Legislative Assembly for his first term in office, and to counter the natural resistance to wholesale and fundamental changes, required skills in diplomacy, persistence and hard bargaining. But above all those attributes is the need for a vision that can incorporate the aspirations, in some cases articulated, at other times inchoate, of a multitude of competing interests, a vision that may at times be contrary to how others see the future, and, in this case, a vision that would profoundly affect the entire Island, then and well into the future.
Campbell's efforts on behalf of renewable energy, equalization payments, non-resident land ownership and other areas of provincial concern, as well as Maritime regional issues and Medicare, some more successful than others, underlined what Peter Newman had noted in 1968: his ability to surmount "parochial concerns" to embrace and advance national interests. These things could not have met with half the success they did if Campbell had not taken the time to know and understand his fellow citizens. He began as a lawyer, and very soon after his retirement from politics was appointed to PEI's Supreme Court, bringing together his knowledge of the law and his wideranging experience as premier. He retired in 1994.
Along with his two careers and the magnitude of his time as premier, Campbell has always had time to enjoy choir singing, local history, community and his family. For his great service to the province, Alexander Bradshaw Campbell is worthy of the Order of Prince Edward Island.
Vera Elizabeth Dewar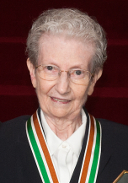 In our first minutes, in our final hours, and at times in between, we find our life, our dignity and our sensitivities rest in the hands of strangers. If we're lucky, those hands belong to a nurse who, beyond being trained to recognize symptoms, also cares for people with proportionate measures of good sense, quick-wittedness and compassion.
The Order of Prince Edward Island "recognizes exceptional contributions in chosen professions or occupations," and in the case of Vera Elizabeth Dewar, it comes after nearly five decades of involvement in the nursing profession. That span of time begins with her graduation from the PEI Hospital School of Nursing in 1956 to her addressing a nurses' graduating class at UPEI in May 2008 after her retirement from official duties. In the course of the most active part of her career, which is almost the same as saying all of it, Dewar moved from clinical instructor to management. The many students she has seen move ahead in their careers, and in their lives, owe a portion of their success to her great fund of knowledge, the challenges she set out in class, and her drive and ability as an instructor. Indeed, some of what she experienced as a student, and in the various positions she occupied early on—an awareness that more education would be beneficial for nurses and for the Island—encouraged Dewar to join with others in advocating for a provincial school of nursing. In 1992 those efforts paid off with the establishment of the UPEI School of Nursing. She has served on various committees, written papers on nursing, and had her contributions recognized by numerous requests to speak to classes and alumni.
Over the years Dewar has had awards and honours bestowed on her including, in 2011, the Order of Canada "for her contributions to the advancement of nursing education in her province." Dewar has funded a nursing graduate scholarship and an endowment fund so that future generations of students can have access to material and institutional support. Amidst the requirements of a demanding profession, Dewar contributed to the Island culturally through the exploration of its Scottish roots. This saw its most fruitful expression in the book Perthshire to Three Rivers, listing the names of over 14,000 descendants of the Brudenell area. The Order of Prince Edward Island is the latest well-deserved recognition of the labours of Vera Dewar.
Dr. Joyce Madigane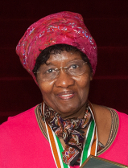 Sometimes we need to travel a long distance from where we were born to find the place we can finally call home. Dr. Joyce Madigane, one of this year's recipients of the Order of Prince Edward Island, was born in Rhodesia (now Zimbabwe), and came to Tyne Valley via England in 1974. She has served at Stewart Memorial for almost forty years as an obstetrician and medical director, and is well known for her vigorous activism when it comes to health matters and ensuring the continuity of rural health services. Part of the Hippocratic Oath reads: "In whatsoever houses I enter, I will enter to help the sick..." Patients of Madigane can testify that from her first days she exemplified that purpose, and has come to be a role model for many. She has carried a large patient load from the beginning, and been on call every second night and every second weekend at the hospital for close to four decades. Madigane has made the journey to and from Prince County Hospital countless times to help deliver babies and to tend to those under her care.
Like Tyne Valley, Lennox Island has benefitted from her abilities and advocacy, and perhaps there is something in the relationship with the Lennox Island First Nation that recalls her former life in Africa. Due to the close ties built there, as doctor and friend, Madigane was made an Elder of the Year in 2010, the same year she was chosen as one of the country's top 25 Canadian Immigrants. She is no stranger to official recognition, as she had previously received the Queen Elizabeth II Golden Jubilee Medal in 2002, and the Tyne Valley Citizen of the Year award in 2005. "This is home, this is family," she has stated, and residents of the area trust her and respect her tireless work on their behalf.
When we look at what a doctor means to us, we first consider the contribution made to our own health. While many doctors could stop there, Madigane goes further by sending clothes and financial assistance back to Zimbabwe, delivering babies in Prince County Hospital, or working long hours in Tyne Valley and Lennox Island. Dr. Joyce Madigane lives up to the values of the Order of Prince Edward Island through, literally, her life-giving contribution to the Island, her devotion to her occupation, and her tireless public service.
For further information on the Order of PEI, contact:
JoAnne Holden
Secretary to the Order of Prince Edward Island
Legislative Assembly
Office of the Clerk
197 Richmond Street
PO Box 2000
Charlottetown, PE  C1A 7N8
Phone: 902-368-5970
Fax: 902-368-5175
Email: jdholden@assembly.pe.ca