2020 Recipients of the Medal of Merit
Olive Bryanton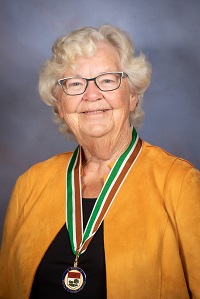 Olive Bryanton is an educator and a passionate advocate for older adults. From Hampshire, PEI, she was raised in a multigenerational home in Malpeque, and has long been aware of the important contribution of older adults to the family and community. She is the mother of five.
Olive was instrumental in the establishment of the first multi-purpose Seniors Centre on PEI, as well as the Seniors College, affiliated with the University of Prince Edward Island, serving as the College's first president. In 2000, Olive received an Honorary Degree from the University of Prince Edward Island for her advocacy work with older adults and lifelong learning. In 2012, Olive was awarded the Queens Diamond Jubilee Medal for her contributions to seniors provincially and federally. In 2017, Olive was appointed by the Minister of Health PEI to serve as an executive advisor for the development of the recent Seniors Health and Wellness Strategy for Prince Edward Island and currently co chairs the Seniors Health and Wellness Implementation Council.
In 2019, and at the age of 82, Olive walked across the stage at the UPEI convocation to receive her PhD in Education. She broke a barrier by becoming the school's oldest-ever PhD recipient. Her PhD work focused on the lived experience of a group of 10 women participants, between 85 to 92 years of age, from rural communities across Prince Edward Island. Bryanton studied what supports or limits their ability to continue living and ageing in rural P.E.I. Her research, as well as Bryanton's own journey, shows people should look at seniors as contributors to society regardless of their age.
While earning the PhD is a milestone, Bryanton is still nowhere near slowing down. She continues to serve as an active participant, including as a board member, for a number of local and national organizations. She was the subject of a CBC documentary, called "Never Too Old", which aired in 2019.
Olive is a lifelong learner and long-time advocate for seniors, including work with the P.E.I. Seniors Federation, and founding the Voice for Island Seniors newspaper, the Seniors Active Living Centre in Charlottetown and the Seniors College. Ms. Bryanton is a very deserving recipient for the 2020 Order of Prince Edward Island.
Henry Purdy, C.M., R.C.A., N.S.C.A.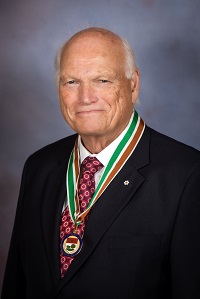 Born in Wolfville, Nova Scotia, Henry Purdy's name is synonymous with art on Prince Edward Island. He is a professional visual artist and art instructor who has been working on Prince Edward Island for more than 62 years. During a lifetime of work, Henry has brought art to people through a variety of media, including: steel and wood sculptures, painting in oils and acrylics, graphic art, portraiture, designs for stained glass windows in local churches, and much more. He has also helped others experience art through workshops, lectures and classes.
His first full-time job was at CFCY-TV in Charlottetown where he was a commercial artist from 1958 to 1963.Then he got wind that the new Provincial Vocational Institute (PVI) was in the works so he wrote a successful proposal that Commercial Art should be taught at the Institute. He was the instructor of the program when PVI opened in Charlottetown in September 1964.
Following PVI, he spearheaded the start of the Commercial Design Program in 1969 at the newly opened Holland College. In 1977, he began Holland College's School of Visual Arts, which offered students two-year post-secondary programs.
Henry is no stranger to volunteering and receiving awards for his excellent skills. He was elected into the Royal Canadian Academy of Arts in 1978 and awarded the Royal Society of Arts Medal in 1981 for his contribution to the Fine Arts in the Atlantic region. He is a past member of the Canada Council and has served on the Board of the Canadian Conference of the Arts, as PEI's representative. Mr. Purdy has also served on the Board of the Confederation Centre of the Arts in Charlottetown. He was presented with the Canada Medal in 1992. Purdy was awarded the Father Adrien Arsenault Senior Arts Award (PEI Council of the Arts) in 1996. Purdy's Lady Slipper gold coin design for the Royal Canadian Mint was selected and minted in 1999.
Henry Purdy was appointed as a Member of the Order of Canada in 2001 and presented with the Queen's Golden Jubilee Medal in 2002. He received the Queen's Diamond Jubilee Medal in 2012 Purdy also received the City of Charlottetown Life-time Achievement Award in 2016.
Mr. Purdy has provided an immeasurable amount of support and encouragement to fellow artists over the years and has donated paintings to many Island institutions and charities. Even now, he continues to teach, present workshops, and, of course, paint. He has created every job he has had and is a very deserving recipient for the Order of Prince Edward Island.
B.E. (Bev) Simpson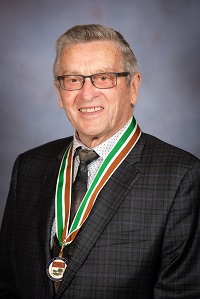 Born in Bayview, Prince Edward Island, Beverley Simpson is an outstanding contributor to the improvement of his Island community as an exceptional visionary, business leader and advocate for local communities.
Simpson carved out his own success through hard work and careful expansion. In 1959, three years after starting with the firm, Simpson joined founder Arthur Vesey as a partner in the business. Six years later, the business partners formed the company known as Vesey's Seeds Ltd. Upon Vesey's retirement in 1979, Simpson and his wife Shirley, who served for years as the chief financial officer, took over ownership of the company. Simpson has overseen considerable expansion, notably Vesey's growth from mailing 10,000 seed catalogues to more than one million and has guided the growth of the company to include a lawn and garden equipment division, and as well as being the Atlantic Canadian distributor of turf equipment, golf cars and utility vehicles.
In 2021, Bev will mark 65 years of success at Vesey's Seeds. Very few people can claim an equal period of dedication and success with a single organization. As he approaches his 83rd birthday, he continues active in his role as President of Vesey's Seeds Ltd. while at the same time maintaining his passion as an effective and committed contributor to his community and province.
Mr. Simpson's business leadership and excellence have been recognized by the Charlottetown Chamber of Commerce, which accorded him the President's award of Business Excellence on two occasions, in 2007 and 2013. In 2015, Bev was inducted into the Junior Achievement Prince Edward Island Hall of Fame. On a broader level, he has been recognized as one of Canada's top 50 CEO's.
Bev Simpson's continuing contributions to his community and business field have been outstanding including: past president of the Garden Seed division of the Canadian Seed Trade Association, shareholder and Director of Covehead Development Inc. as well as the Stanhope Golf & Country Club, and a supporter of numerous charities. Despite all of his contributions, his number one priority remains to care for his wife Shirley, a couple who have shared over 60 years of marriage. They have been full partners in community and family life, with Shirley playing a significant supporting role in the business.
A driving force is all aspects of life; Bev offers a remarkable combination of outstanding community contributions and individual excellence in his field of business leadership and a most deserving recipient for the 2020 Order of PEI.
For further information on the Order of PEI, contact:
JoAnne Holden
Secretary to the Order of Prince Edward Island
Legislative Assembly
Office of the Clerk
197 Richmond Street
PO Box 2000
Charlottetown, PE  C1A 7N8
Phone: 902-368-5970
Fax: 902-368-5175
Email: jdholden@assembly.pe.ca