2002 Recipients of the Medal of Merit
Anna Duffy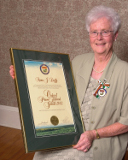 A homemaker and teacher, Mrs. Anna Duffy has served her home community and the Province in an exemplary manner. Serving on numerous church, community and educational organizations, her efforts have demonstrated a deep commitment to Prince Edward Island and its people. As an illustration of her level of commitment, Mrs. Duffy has served as one of the founding couples of the Christian marriage preparation course, coordinator with the Retrouvaille Program for couples experiencing difficulties, Marriage Encounter leader, Catholic Womens League member for over 50 years at the local and provincial levels, very active in all aspects of St. Patrick's Church, Co-Chair of the Diocesan Family Life Commission and past President of the Knights of Columbus Ladies Auxiliary.
In addition to this, her community involvement includes service as a founding member of the Fort Augustus Recreation Club, Fort Augustus 4-H Club (for over 45 years), Hillsboro River Association, Fort Augustus Heritage Park Planning Committee, United Way Appeal, Heart and Stroke Foundation, Canadian Cancer Society and as a Member and President of the Fort Augustus Irish Descendants.
Not one to be idle, Mrs. Duffy has found the time to make significant contributions in the field of education as well. A former teacher, she has served on the Ministerial Advisory Committee on Curriculum, as a Trustee and former Chair of the Unit 3 School Board, Member of the PEI School Trustee Association, as a Member of the Board of Governors of the University of Prince Edward Island, a Member of the Home and School Association and as a tutor at the elementary and junior high school levels for over 20 years.
Mrs. Duffy has also been active in the Progressive Conservative Party of Prince Edward Island, as Co-Chair of the Royal Commission on Public Sector Labour Relations and as Chair of the Planning Committee and Member of the National Committee for the International Year of Older Persons.
The foregoing efforts have not gone unnoticed. Mrs. Duffy has received recognition by being named co-Islander of the Year in 1984 (received jointly with her husband Charles), recipient of Honorary Doctor of Laws, UPEI, 1990, Atlantic Granny of the Year (1999), a Member of Who's Who on PEI and inclusion in "Making History: A Celebration of PEI Women of the 20th Century".
As a mother of 10 children, it is hard to comprehend that she would have time for this impressive list of contributions. She serves as a reminder of just how much one person can accomplish if they set their mind, energies and talents to it. We are all the better for it.
As the foregoing will confirm and attest, Mr. Graham's contributions have touched many. His efforts are exemplary and his work will leave a significant and lasting legacy for the benefit of all Prince Edward Islanders.
Allan Graham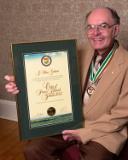 Allan Graham has served Prince Edward Island and its people in educational leadership roles, as an author, lecturer, historian, musician and community leader for many years. His contributions are varied, having been extensively involved in sessional lecturing, teaching Island history and contributing invaluable written resources for the reference of Islanders and others for generations to come. Mr. Graham's contributions include;
Numerous publications including; 22 books of children's poetry, Stewart Memorial Health Centre (Tyne Valley) - A History, The Grahams of Lots 20, 21 & 22, A Photo History of the Prince Edward Island Railway, numerous periodical articles, self published poetry books; 
Editor/Advisor on three local histories;
Past Chairman of Heritage Foundation Railway Committee (1971 - 1973);
Past Chair of the PEI Centennial Literary Committee; and,
Co–Founder of Sand Patterns magazine.
In addition to these impressive contributions, Mr. Graham has been involved in community leadership for over 40 years, serving as organist, choir member and choir director for numerous churches, and as a long time Tyro leader.
Other organizations receiving the benefit of Mr. Graham's talents and energy include; P.E.I. Arts Council, West Prince Arts Council, Member of the Canadian Railroad Historical Association, Member of CN Lines Special Interest Group, Member of the West Prince Music Festival Committee, Member of the Island Writers' Guild, former director of the Kindness Club, former Chairman of the Charlottetown Boys Club, West Prince Chamber of Commerce and the Alberton Historical Group.
These significant contributions have not gone unnoticed. Mr. Graham has received the John Hunter-Duvar Award (1985) from the West Prince Arts Council, acknowledgment from the PEI Music Educators' Association for over 25 years of teaching music in public schools, Article of the Year Award in a CRHA publication (1988), Distinguished Contribution for the Literary Arts in PEI from the PEI Arts Council and a recipient of the PEI Museum and Heritage Foundation Award (2001) for his book, "A Photo History of the PEI Railway" (2000).
Elmer Williams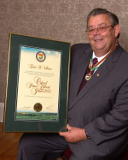 Retired from long time service with Canada Post and born in Mt. Pleasant, Prince County, Mr. Elmer Williams has been an active volunteer in his Community for many years. His extensive involvement and commitment in contributing to make Prince Edward Island a better place is very impressive. His dedication is clearly demonstrated through participation in many different and worthwhile organizations and events, such as the Silver Fox Curling and Yacht Club, International Fox Museum and Hall of Fame, Academy of Country Music Entertainment, P.E.I. Special Olympics and the Wyatt Centre.
In addition to the foregoing, Mr. Williams' other community involvement includes service as Member and Past President of the Greater Summerside Chamber of Commerce, the Summerside Rotary Club and the Summerside Silver Fox Curling Club. He has also served as Past Chairman and Director of P.E.I. Special Olympics and of S.A.W Industries, past Member of the Canada Days Provincial Committee, various positions in organizing provincial and national curling championships, Co-Chair, Host Committee for "Up with People", Member of the Prince County Family Service Bureau Roast Committee, canvasser for the Heart & Stroke Foundation of P.E.I., work with the International Hall of Fame of the Fox, Chair and Co-Chair of the Fundraising Committee for Barb McNeill's English Channel Swim, Volunteer with the Canada Winter Games, Director of the Bedeque Bay Environmental Management Association, former Councillor, City of Summerside, Member of the Canvass Committee, PEI Kidney Foundation, past Honorary Chair of the Big Brothers Big Sisters Bowl for Kids Sake fundraiser, service on the Island Trails Committee, Director of the P.E.I. Sports Hall of Fame, host of cable television talk show "Point of View", Co-Chair of Barb McNeill English Challenge Club, Team Captain - Capital Equipment Campaign for new Prince County Hospital, Chair of the John Greencorn Holiday Benefit Concert & Dance, support of the George R. Pearkes V.C. Branch, Royal Canadian Legion and Member of the Board of Directors, East Prince Health.
For these efforts, Mr. Williams has been honoured as Service Person of the Year (Summerside - 1983), recipient of the Meritas Award (International Society of Postmasters), Award of Merit (Canada Post Corporation - 1988 and 1989), Paul Harris Fellowship (Summerside Rotary Club - 1992), Canada 125 Medal (1993), 1994 Silver Postmark Award, 1995 elected to the Canadian Postal Curling Hall of Fame, 1997 Summerside Chamber of Commerce Volunteer of the Year, Member of the Governors Club - Prince County Hospital Foundation (2000) and in 2001 was awarded the Senate of Canada Volunteer Recognition Medal and as Consolidated Credit Union Member of the Year.
As clearly demonstrated by the foregoing, Mr. Williams continues to live his life unselfishly by contributing to others and to the broader Island community. He has obviously achieved much in his life and has made a difference by contributing to numerous and varied community efforts.
For further information on the Order of PEI, contact:
JoAnne Holden
Secretary to the Order of Prince Edward Island
Legislative Assembly
Office of the Clerk
197 Richmond Street
PO Box 2000
Charlottetown, PE  C1A 7N8
Phone: 902-368-5970
Fax: 902-368-5175
Email: jdholden@assembly.pe.ca