2003 Recipients of the Medal of Merit
Georges Arsenault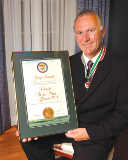 Born in Abram-Village, M. Georges Arsenault has served Prince Edward Island with distinction. A professor, radio program host, editor, folklorist, author and historian, M. Arsenault continues to provide an invaluable service to all Islanders through his work for the preservation of Island Acadian history and heritage and for his involvement in the development of one of Prince Edward Island's most important communities.
Over the years, Mr. Arsenault has demonstrated his commitment to the Island Acadian community and the broader Island community through many contributions, including: Chair of the Acadian Festival of the Evangeline Region (1979-1981), Vice-President of the PEI Acadian Museum Association (1983-85), President of the PEI Acadian Historical Society (1982-1984), member of the Board of Directors of the Atlantic Canada Institute, President of the Committee for the Centennial of the Acadian Flag (1982-1984), and service as a member of the PEI Museum and Heritage Foundation Board from 1980 - 1986. Mr. Arsenault has also been involved with the Société Saint-Thomas-d'Aquin, Port-Lajoie Cultural Centre, Parks Canada Acadian Advisory Committee, the Institute of Island Studies, Les Éditions d'Acadie and the Monument Lefebvre Society.
Mr. Arsenault has done a great deal to promote an understanding and appreciation of Acadian history, culture, a nd traditions, including lectures to such noted gatherings as the Folklore Studies Association of Canada, the Acadian History Institute, the International Symposium of Acadian Studies and the American Folklore Society. Mr. Arsenault has also led the research and participated in the development of several important exhibits, including Acadian Folk Arts, Eptek Centre (1978), The Old Acadians, Eptek Centre (1980), The Acadians: A People and its Symbols, Eptek Centre (1984), The Island Acadians : A Community and its History, Acadian Museum (1991).
For these exceptional efforts, Mr. Arsenault has received many special acknowledgments, including: 1982 Acadian of the Year, 1990 L'Ordre des francophones d'Amérique, 1996 L'Ordre de la Pléiade, 1999 Award for Distinguished Contribution to the Literary Arts, P.E.I. Council of the Arts, 2001 Award of Honour from the P.E.I. Museum and the 2001 Prix Hommage awarded at the Prix Chalin Gala, P.E.I. Cultural Federation.
As is evident, Mr. Arsenault's work will provide a lasting legacy, serving the Acadian and francophone communities and all Prince Edward Islanders with a greater appreciation of our collective history and culture. It is for this reason that Mr. Arsenault is being awarded the highest provincial honour that may be bestowed, the Order of Prince Edward Island.
Donald M. Deacon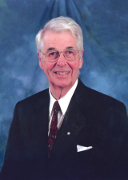 Mr. Donald Deacon of Charlottetown is truly an exceptional Islander and Canadian. A Veteran of World War II, born in Toronto, Mr. Deacon has demonstrated his commitment to public service in many different ways. Whether it be as a businessman, elected representative, volunteer or appointee, Mr. Deacon has distinguished himself through tireless efforts to improve Prince Edward Island. Some examples of this commitment include founding member and Co-Chair of Katimavik (1977 - 1980), National Commissioner of Scouts Canada (1982 - 1987), Board of Regents, Mount Allison University (1982 - 1987), Executive Member and President of the P.E.I. Branch of the Royal Commonwealth Society (1986 - 1992), Vice-Chair of the P.E.I. United Way Campaign (1992), President of the P.E.I. Red Cross and Member of the Society's Board of Governors (1995 - 1997), Founding President and President Emeritus of Island Trails, Director of Trans Canada Trail Foundation and Member of the Voluntary Resource Council Capital Fund Campaign (2002/2003).
For these, and other exemplary contributions, Mr. Deacon has received the Military Cross for service during WWII, named a Member of the Order of Canada (1987) and recently promoted to Officer of the Order of Canada, named to the Order of the Red Cross (1997) and as Red Cross Humanitarian of the Year in 2002.
No acknowledgment of Mr. Deacon's accomplishments and contributions would be complete without recognizing the support of Mr. Deacon's wife of 56 years, Mrs. Florence Deacon. Her spirit, creativity, and wisdom have profoundly influenced all that Mr. Deacon has been able to achieve.
In the words of Mr. Deacon's nominator, his life has been filled with an unbelievable variety of ways in which one person may serve humankind. His spirit, energy and caring for others has truly served all Islanders in an exemplary manner and serves to represent the very ideals that the Order of Prince Edward Island was established to acknowledge.
Noel Wilson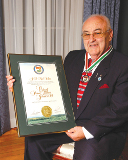 Mr. Wilson has dedicated his life to voluntary endeavours. His enthusiasm and vision have served to improve and develop the Village of Cardigan and surrounding communities. Mr. Wilson is truly an outstanding volunteer who always believed in doing what he could to make the world a better place. In his own words, "...our world is made up of many communities...and it is with community it all begins."
Not only did he speak these words but he lived by them. To demonstrate this commitment, Mr. Wilson served on the Cardigan Village Council for 28 years and all but two of those years as Council Chairperson. He also served on the Executive of the P.E.I. Federation of Municipalities for 18 years, with Canadian Parks and Recreation for 12 years and for many years in varying capacities with the Cardigan Recreation Commission (1961 - 2001), Community and Correctional Services (1987 - 2000), Lions Club Member (1975 - present), Knights of Columbus (1954 - present), also serving as a United Way Coordinator and collector, catechism teacher, baseball coach, volunteer fireman, coordinator for the Red Cross Summer swimming program and even as the official "flooder and stove stoker" for the Cardigan Outdoor Rink.
In acknowledgment of these exemplary contributions, Mr. Wilson has received many distinctions and awards including: named an Honorary Citizen of Cardigan (2001), Bruce H. Yeo Memorial Award in recognition of outstanding contribution to municipal government in P.E.I. (2001), Award of Merit from the Canadian Park and Recreation Association (1994), Honorary Chair of the 1994 World Senior Softball Championship, Lifetime Member of the P.E.I. Recreation Association, Certificate of Appreciation for contributions to community and correctional services in P.E.I. and an Award of Appreciation for contributions to baseball in P.E.I.
As the foregoing will attest, Mr. Wilson has dedicated his life to making Prince Edward Island a better place and, in so doing, has personified the very objectives that the Order of Prince Edward Island was established to recognize.
For further information on the Order of PEI, contact:
JoAnne Holden
Secretary to the Order of Prince Edward Island
Legislative Assembly
Office of the Clerk
197 Richmond Street
PO Box 2000
Charlottetown, PE  C1A 7N8
Phone: 902-368-5970
Fax: 902-368-5175
Email: jdholden@assembly.pe.ca