Contact Us
JoAnne Holden
Secretary to the Order of Prince Edward Island
Legislative Assembly
Office of the Clerk
197 Richmond Street
PO Box 2000
Charlottetown, PE  C1A 7N8
Phone: 902-368-5970
Fax: 902-368-5175
Email: jdholden@assembly.pe.ca
Members of the Order of PEI
Share This : Share Tweet
2023 Recipients of the Medal of Merit
Sister Teresa Currie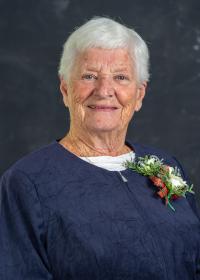 Sister Teresa Currie is a well-known citizen of Prince Edward Island and is especially recognized as a tireless worker with a singular desire throughout her life to help the less fortunate. She continues to show outstanding loyalty and dedication in her roles as a religious sister, teacher, missionary, chaplain and community volunteer who has made great contributions to many organizations over the years.
Born in 1929 in Sydney Mines, Cape Breton, she entered the Sisters of St. Martha of PEI in 1952. After 18 years of serving the boys at St. Dunstan's College, she served as coordinator of pastoral service at St. Pius X Parish in Charlottetown while also carrying out group and individual counselling sessions with young incarcerated persons. Coupled with her missionary services, Sister Teresa committed her life to helping others less fortunate.
Educated at St. Paul's University in Ottawa, Ottawa University and McGill University, her commitment to serving others was the focus of not only her education but her personal life. Later she played an integral role in training chaplains, volunteers and students working in the correctional system in Queens County Jail and Sleepy Hollow and had a major influence in developing several preventative programs. In 1978, Sister Teresa went to Springhill Institution to conduct clinical pastoral education until her retirement in 1996.
Since her retirement, Sister Teresa continues as a volunteer, virtually full-time; helping her community and fellow citizens on the Island. She has and continues to the extent possible to volunteer with numerous organizations including Salvation Army, Literacy Clubs, Bedford MacDonald House and the Charlottetown Outreach Centre.
She has received numerous awards including the Queen Elizabeth II Medal in 2012, the Mayor's Citizen Recognition Award in 2021 and the Special Recognition Award from Canada's Deputy Commissioner during the 13th Annual Crime Prevention Conference in 1999. It was only the second time this honour had been awarded and she was the first recipient in Atlantic Canada.
At 93 years young, Sister Teresa projects a warm cheerful attitude and works diligently to help lift people's spirits and find the desire to improve their lives. She has a keen sense for the dignity of each person no matter the race, color, sexual orientation or income level. She not only works to improve the life of others; she walks with them.
Sister Teresa Currie's dedication, concern and love of her fellow human beings continues to shine along with her concern for others over the decades makes her a very worthy recipient for the Island's highest honor, The Order of Prince Edward Island.
Mary Hughes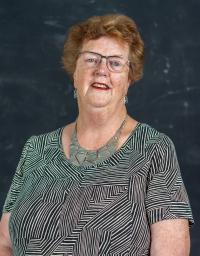 Mary Hughes is a visionary who is dedicated, motivated and energetic as witnessed by her determined efforts to advocate for a stand-alone Palliative Care Unit on Prince Edward Island.
From caring as a nurse for the very first titled "palliative patient" in the mid-1980's to carrying on in the palliative volunteer sector in the 1990's, to her present day dedicated palliative teaching and advocacy work in the 2000's, Mary Hughes can be described as a kind of living walking palliative care historian, leader and legend for palliative care.
Mary has spent most of her life either working or volunteering in the Health Care System from starting as a High School student "Candy Striper" until the present day with Seniors and her Community of Stratford. After graduating as a Registered Nurse, Mary obtained her Nursing Administration, an Administration and Spirituality in Health Care certificate, and a Baccalaureate in Nursing, all the while maintaining her united family home with her husband John and raising three children. While raising her children and now active with her grandchildren, Mary continues to stay community involved and to further her learning and education.
Mary is often referred to as PEI's original face and strongest voice for hospice palliative care. Mary has a strong background in the advancement of palliative practice and served as a member of local, provincial and national committees and Boards of Directors. It was during these years that the vision of a PEI standalone Palliative Care Unit was born.
As anyone who knows Mary understands, when she takes on a project or cause, she is a very strong voice and presence. It was announced on July 15, 2013 that a new provincial stand-alone palliative care facility would be built to replace the old one. Mary's vision was achievable – an enhanced holistic care facility with a better environment for our terminally ill patients, families and teams. In 2015, the new Provincial Palliative Center opened.
Mary Hughes's dedication and accomplishments have been recognized through various media profiles, honours and acclamations. In 2012, Mary received the Queens Jubilee Medal and in 2022, Mary was named Senior Islander of the Year for her outstanding contributions to communities across the province.
Mary is a go getter, a driving force, and an innovator with tremendous energy, enthusiasm, selflessness and dedication to hospice palliative care. Mary doesn't seem to slow down as most recently she has become quite involved with environmental issues in her community of Stratford and the Covid 19 vaccination clinics.
Within her own nursing specialty, Mary believes that every Canadian, faced with a life-threatening illness, has a right to be able to access skilled palliative and end-of-life care. For over 30 years, Mary has made and continues to make invaluable contributions on Prince Edward Island and is a most deserving recipient for the 2023 Order of Prince Edward Island.
Scott Parsons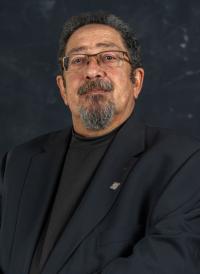 Award winning singer-songwriter Scott Parsons is a versatile and multi-dimensional talent who has consistently utilized his accomplishments to enrich both himself and his community. His artistic creativity devoting approximately 40 years of his life to writing songs that chronicle the lives of Black Islanders and the events that shaped their lives. Parsons is a gifted songwriter, who consistently uses his arts background to help children.
Scott Parsons is an Island musician who has worked with at-risk youth and trained in behaviour modification, rational emotive therapy, reality therapy, neuro-linguistic programming and other counselling and child development techniques. He is a founder of the Black Cultural Society of PEI, which has grown to over 300 members.
Throughout his career, Scott has been more than willing to donate his time and energy to his community. Scott follows in the great tradition of roots Island artists, having been a student of Gene MacLellan during the 1970s. He developed his own guitar style merging Black and Maritime traditions which he named "Rastacadian."
His recent work includes writing and recording songs for The Old Stock, a play written by Ron Irving and Harry Baglole about PEI Black history. The material is currently being taught as part of the curriculum for grade 6 and 12 students across the Island.
For four years, Scott was the Director of the award winning Around the Block Program for the PEI Council for People with Disabilities. Scott took disabled youth to Island schools with an anti-bullying puppet show. He taught Bunraku style puppetry and toured Island schools with an anti-bullying puppet show about inclusion of people with disabilities and led music workshops with Indigenous youth in Lennox Island and Scotchfort.
Scott's honours and awards included: Best Soundtrack for a Short Film for Grimm, PEI Film Festival (2002); ECMA 2003 - African Canadian Recording of the year; PEI Music award 2003 -Blues recording of the year; PEI Music award 2004-Blues recording of the year; PEI Music award 2011 - Blues recording of the year; The Father Adrien Arsenault Senior Arts Award, Province of Prince Edward Island (2012); The Queen Elizabeth II Diamond Jubilee Medal (2012) and "What I Am" (Jupiter Wise) was selected as the theme song for the United Nations International Convention for the Rights of the Child (1993). Also, in 2021, Scott received the Lifetime Achievement Award from PEI Music and in 2022 from the East Coast Music Association with a Stompin' Tom Award.
Scott's unfailing good humour and dignity are well-known to Island audiences and musicians. Scott Parsons is one of Prince Edward Island's most distinguished musicians who has reached and assisted many challenged youth and is a most deserving candidate as a recipient for the 2023 Order of PEI.