Contact Us
JoAnne Holden
Secretary to the Order of Prince Edward Island
Legislative Assembly
Office of the Clerk
197 Richmond Street
PO Box 2000
Charlottetown, PE  C1A 7N8
Phone: 902-368-5970
Fax: 902-368-5175
Email: jdholden@assembly.pe.ca
Order of Prince Edward Island
Share This : Share Tweet
The Order of Prince Edward Island is the highest honour the Province can bestow. It gives public recognition to individual Islanders whose efforts and accomplishments have been exemplary. There are many citizens who make remarkable contributions to the social, economic and cultural life of our province and its people and the Order of Prince Edward Island is a unique opportunity to honour them. The Order of Prince Edward Island is established under the Provincial Emblems and Honours Act (PDF).
I want to nominate someone. How do I do that?
Do you know a deserving Islander who should be considered for the Order of Prince Edward Islander?  The advisory council will accept nominations for recipients of the 2023 Order of Prince Edward Island in the near future.
In the meantime you can find out who is eligible. A nomination form and deadline will follow. Nominations will only be accepted by email or postal mail due to ongoing public health concerns.
2022 Recipients of the Order of PEI Medal of Merit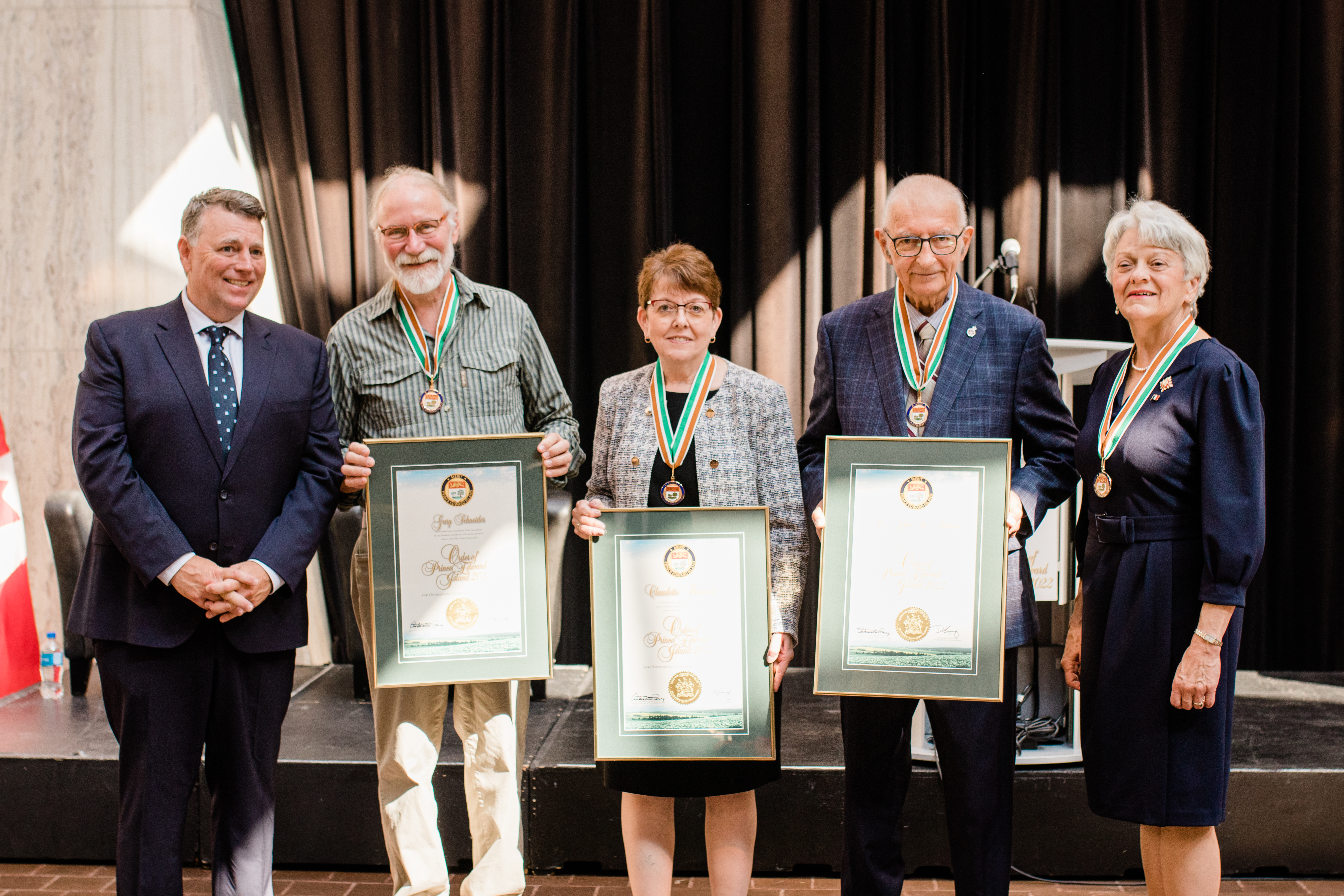 The 2022 recipients of the Order of Prince Edward Island were announced by the Chancellor of the Order, Her Honour the Honourable Antoinette Perry, Lieutenant Governor of Prince Edward Island and Mr. Gerard Greenan, Chair of the Order of Prince Edward Island Advisory Council.
The three Islanders selected to receive the honour are:
Dr. John Wallace Andrew, Charlottetown;
Mr. Gary Schneider, Stratford; and,
Mme. Claudette Thériault, Abram-Village.
These three individuals were selected from a total of 38 Islanders nominated to receive the award this year, and received the insignia of the order in a ceremony at the Confederation Centre of the Arts, Memorial Hall on Wednesday, October 5.